Mumbai's creeks receive 655 million litres of untreated sewage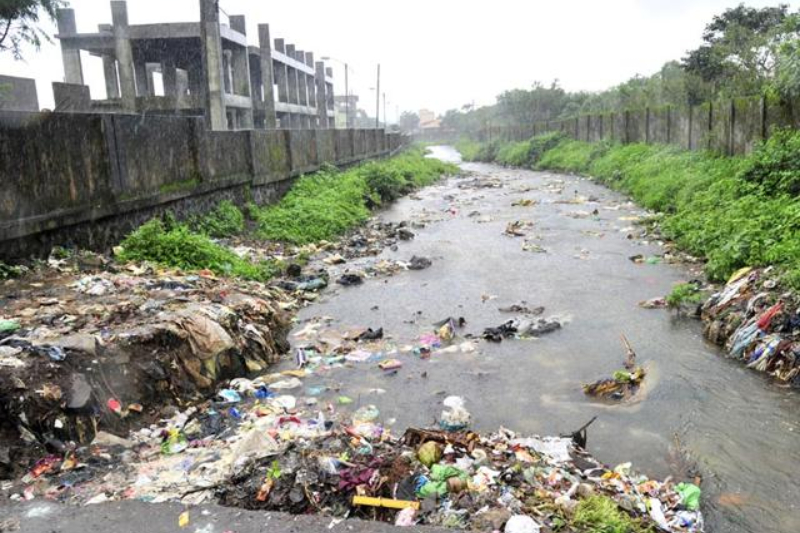 Untreated sewage that enters water bodies is approximately 25% of the city's sewage. According to the Maharashtra Pollution Control Board (MPCB) this leads to poor water quality and leaving quantities of trash along Mumbai's beaches.
On 2nd July 2018, an affidavit submitted by the MPCB to the western branch of the National Green Tribunal says per day Mumbai generates 2671 million litres of sewage. Out of which about 75% or 2016 million litres per day (MLD) is treated in sewage treatment plants (STPs) and 655 MLD is discharged directly into creeks and the sea at different locations.
An application filed by the non-governmental organisation Vanashakti was responded by the MPCB. On Thursday, 5th July 2018, Vanashakti made the MPCB's affidavit public.
In January, Vanashakti had complained to the NGT Pune against civic bodies in the Maharashtra government for their failure to install nets across storm water drains in Mumbai which would collect waste from nullahs before they empty into water bodies. Vanashakti's application said "Solid waste comprising of plastic carry bags, thermocol plates, Styrofoam cups etc., finds its way into the mangroves through tidal action. Presently, the plastic materials have no obstruction and no way of being collected separately."
Also Read: Mumbai city is now flood proof: BMC chief to CM
Brihanmumbai Municipal Corporation's (BMC) sewage operations department said of the total 2671 MLD, the civic body treats 1,500 to 1,800 MLD at Bhandup, Ghatkopar, Versova, Malad, Colaba, Worli and Bandra sewage treatment plants (STPs). While the rest apart from private STPS treat some of the sewage at hotels and housing complexes goes into rivers, streams, creeks or the sea. It also uses devices like trash booms.
According to the MPCB's affidavit,"creeks, rivers and the sea along Mumbai's 437.71 sq km coastal stretch, are under threat from continuous discharge of municipal solid waste, plastic waste etc. directly into nullahs by the general public and slums areas. Discharge of untreated domestic waste accounts for 93% of the source of pollution for these water bodies." Well this calculation is based on monthly monitoring of water bodies and coastal waters.
MPCB also claimed that it had sent repeated reminders to BMC regarding the actions taken to collect, segregate, store, transport and dispose waste, and treat it under the directions of Water (Prevention and Control of Pollution) Act, 1974, and new guidelines set by the Central Pollution Control Board for sewage discharge. The affidavit, "BMC has not taken required effective steps to comply with the said Act and rules made thereunder." Also it added that last year in September, a prosecution notice under the Act was issued to the civic body for non-compliance.
"All the marine outfalls which empty into mangroves and the sea need to be guarded with nets," said Stalin D, director of Vanashakti. "Lack of incentive is forcing the state machinery not to take action using simple methods" said Vanashakti welcoming MPCB's affidavit, highlighting nets across storm water drains were a simple solution.
Last year, MPCB had submitted similar figures to the Bombay high court which suggests since 2017 there been no improvement in Mumbai's sewage treatment.
Also Read: Mumbai: BMC refuses to reduce fine for plastic usage defaulters