Mumbai: FYJC admission, first cut-offs list remains high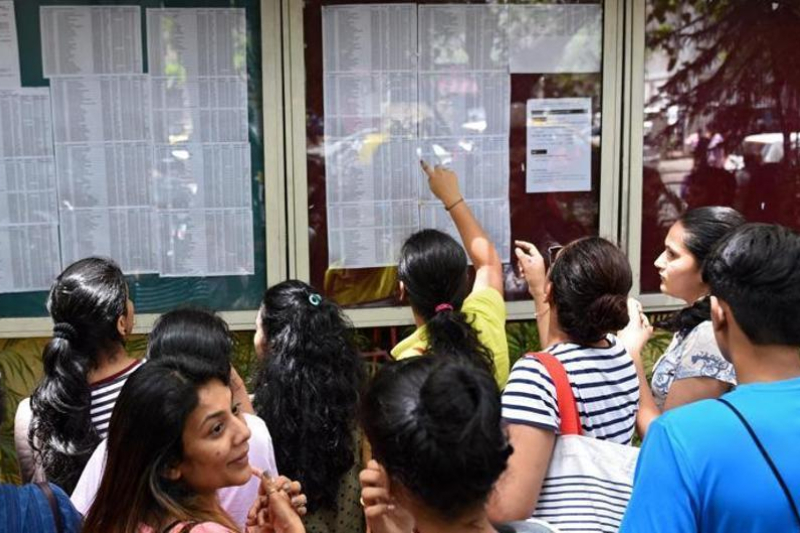 First year Junior college cut- off percentage for the students who appeared for class XI continues to be higher for this year as well, after the new admission system was introduced last year. Out of the total 2,03,120 seats admissions are allotted to 12,05,68 students by the Education Department. On Thursday, by evening roughly about 59% seats were announced. These included 72,054 students in Commerce, 34,840 in Science and 12,611 in the Arts stream. Over 2,447 students have already been admitted in bi-focal courses.
On Thursday morning itself when the first merit list was released, many prominent colleges of Mumbai registered cut-offs for Commerce close to 90%.
This time demand for Commerce rushed way ahead of Science. R.A. Poddar in Matunga, prominent Commerce college closed its admissions at 93% for the open category.
Principal of R.A Podar College of Commerce and Economics, Shobana Vasudevan quoted "the cut-offs could actually rise in the second or third rounds and that there is a risk involved for students to not take the allotted college in this new system. "With the kind of fluctuations, students should be thoughtful to take admissions and not wait for preferences."
It is said that the new criterion have streamlined the process, but have put students in a corner. In order to prevent students from floating, they have been guided not to cancel the admission and unlike earlier, when they just paid Rs. 50 to seal admission, now they have to pay the full year's fees to claim admission.
Also Read: Keep realistic cut-offs, DU advises colleges
Though Principals felt the new system had brought in the much-needed discipline into the Class XI admission system.
Lily Bhushan, Principal of KES Shroff College of Arts and Commerce justified this by saying "Earlier, admissions would go haywire due to the constant hopping of students from one institution to another, since students had to just pay Rs. 50 for claiming admission. But now, with students being made to pay fees for the full year it helps serve as a deterrent."
But from student's point of view the scenario is different as Rohan Gupta, who secured 90.2 %, wanted admission into Sathaye College in Vile Parle but has been allotted a seat in Mithibai. Mr. Gupta said he would take admission in Mithibai and then keep trying for a seat in Sathaye. "I could not apply to other local colleges because I could not find those options in the online forms," he said. Mr. Gupta said many of his friends prefer to wait for later rounds than take admission to institutions they are not happy with. Mansi Yelve, who scored 71%, failed to receive any college allocation and is awaiting her turn.
Vice-Principal of KC College, Mehak Gvalani said the process will be completed in due course. "Our college got only about 90% of seats the allotted. However, we are sure seats will be filled in just two rounds and we should be able to start our term soon. The seats, she said, are deliberately not filled at one go in order to keep a margin for error or corrections."
Also Read: "Bhakts" getting graduated with "WhatsApp University" Degree