Twitter celebrates PM Narendra Modi's win with crazy memes
PM Narendra Modi's win sets social media on fire, here are the most hilarious memes ever seen.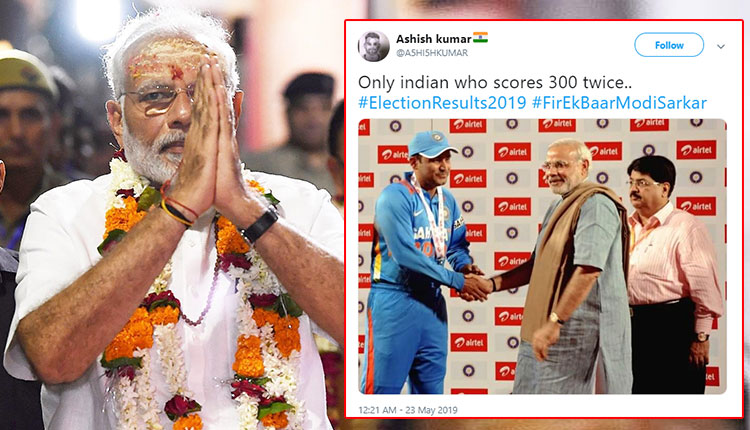 The finale of the Lok Sabha elections is almost on the verge of its end, but the nation has realized that this time too it is Narendra Modi. Yes, the PM is all set to lead the government once again for the next five years. The supporters of the saffron party have taken to the internet and are sharing their excitement with some of the most hilarious memes ever.
Many are relating Prime Minister, Narendra Modi to Avengers Endgame's Thanos who was the most powerful person in the entire world. Some are juxtapositioning the Prime Minister of India with legendary cricketer Virendra Sehwag. Memes of the Opposition party are also ruling high.
Here are some of the most hilarious memes for BJP fans:
Only indian who scores 300 twice..#ElectionResults2019 #FirEkBaarModiSarkar pic.twitter.com/yMIwt76xOK

— Ashish kumar🇮🇳 (@A5HI5HKUMAR) May 23, 2019
#Modi Ji Right Now pic.twitter.com/e68c4IEUAj

— Shalini Shukla (@Shalini__Shukla) May 23, 2019
He is coming #ModiAaRahaHai pic.twitter.com/OHKhHb8tcw

— Chowkidar Ravinder Mehta (@MehtaRajput9) May 23, 2019
Congrats to Narendra Thanos Modi pic.twitter.com/rHYMuGQMiE

— Bakwas Rider 🏍️ (Wear helmet at the back also) (@BakwasRadio) May 23, 2019
Sir you make bahubali meme take inspiration from this pic.twitter.com/mNVWhznIxe

— wtf peg (@peg_lateral) May 23, 2019
Modi be like 😎 #ElectionResults2019#JeetegaToModiHi #ThugLife pic.twitter.com/17bnh3YKT1

— Daljeet Singh (@daljeet701) May 23, 2019
One piece of Humour for the Day : Opposition & Rahul Gandhi are alleging (& crying) that👇
"Not only EVMs, even TV remotes have been hacked – whichever button we press, it shows a NDA victory!!"

AB Batao 😂😂😂

— Chowkidar Babul Supriyo (@SuPriyoBabul) May 23, 2019
GoT Finale = Loksabha Elections#Re #ElectionResults2019 https://t.co/8AO9gLWHwQ pic.twitter.com/MDEBNmwGaP

— Sagar (@sagarcasm) May 23, 2019
Amit Shah right now .. 😂😂#ElectionResults2019 #ModiAaRahaHai pic.twitter.com/CgEazkOPVD

— Kejriwal Jong Un (@LagbhagSecular) May 23, 2019
Truly hilarious aren't they but they do express the mood of the BJP supporters perfectly.
Also Read: Maharashtra Result 2019: BJP-Shiv Sena leading ahead of Congress and others