Naxalism will be fully eliminated from country in 3-year, says Home Minister Rajnath Singh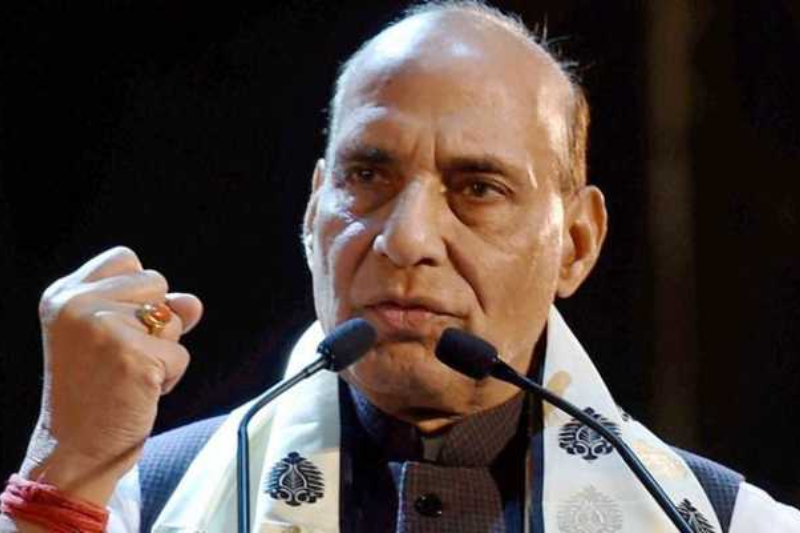 Union Home Minister Rajnath Singh on the occasion of 26th anniversary of the Rapid Action Force (RAF) said Left Wing Extremism will be eliminated from the country in the next two to three years.
While addressing at RAF in Lucknow on Sunday Singh said, "The day is not far, maybe in a period of 1 to 2 or 3 years, that the LWE will be fully eliminated from the country and this would happen due to your (CRPF) determination, courage, and hard work and that of the state police forces."
Home Minister highlighted the districts affected by Maoists in the country saying it has been reduced to about 10 to 12 compared to 126 some time back. The Minister also said, the force has shot dead 131 and Maoists and militants this year, while it has apprehended 1,278 of them has affected 58 surrenders during the same time.
While speaking about Jammu and Kashmir, he said, "Kashmir is ours, it was ours and it will be ours. No power of the world can snatch it from us."
Rajnath Singh lauded Jawan's work in counterpoising Kashmiri youths who had been drawn into militancy. He said RAF's action should be rapid and quick but never "reckless." However, "If any person indulges in any terrorist activity, no power in the world can stop you [CRPF] from neutralizing that person," Singh added.
Rapid Action Force is a specialised wing of CRPF having the strength of just over 1000 personnel. It deals with riots, crowd control, rescue and relief, and other related untoward situations with non-lethal weapons like pump action guns, tears smoke grenade launchers.
It was raised and made fully operational in October, 1992. It has ten battalions (of about 10,000) based in various parts of the country in order to cut down response time to counter an incident of trouble.
The ten existing RAF battalions are based in the cities including Hyderabad, Ahmedabad, Allahabad, Mumbai, Delhi, Aligarh, Coimbatore, Jamshedpur, Bhopal and Meerut. Five of its new bases are in Jaipur, Varanasi, Mangalore, Hajipur(Bihar) and Nuh (Haryana).
Also read: Madhya Pradesh: Balloons explode during Rahul Gandhi's roadshow in Jabalpur