Neha Kakkar & Aditya Narayan to take pheras on the sets of Indian Idol 11?
In a viral video, Neha Kakkar and Aditya Narayan are seen exchanging garlands on the sets of Indian Idol 11; Watch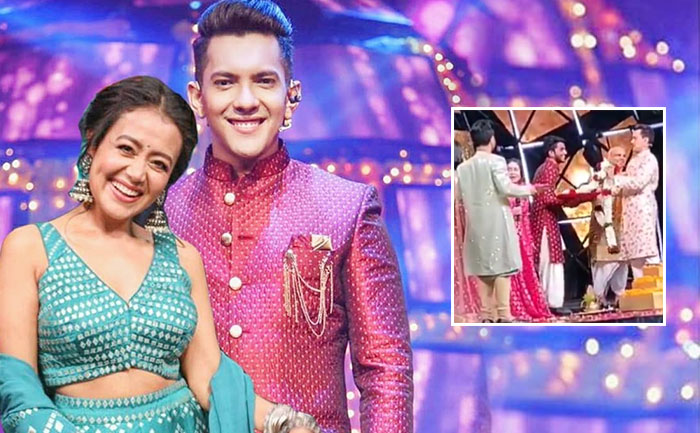 Valentine Day is around the corner and love is in the air and rumours of singer Neha Kakkar and Aditya Narayan's wedding are on the rise for many days. As per recent reports, Neha and Aditya are all set to tie the knot. Now, a video has surfaced on the internet where we see Neha and Aditya near the 'havan kund' and they are all set to tie the knot on the sets of 'Indian Idol 11.
Watch the video here:
In the video, we can also so see the baratis, pandit who is chanting mantras and Aditya holding garland on his hands. Everyone including Neha and Aditya looks quite happy.
Aditya Narayan's father popular singer Udit Narayan has called this marriage rumor just a publicity stunt.
During his recent interaction with Bollywood Hungama, the legendary singer stated "I suspect this link-up and marriage rumors with Neha are just to boost the TRPs of Indian Idol where she's a judge and my son is the anchor. I wish the marriage rumors were true. Neha is a wonderful girl. We'd love to have her as our bahu (daughter-in-law)," he said.
The couple has been in the news ever since father Udit Narayan came on the sets of Indian Idol 11 along with his wife Deepa Narayan Jha last month and declared the news. Neha's parents also came on stage and revealed their approval of the match.
Meanwhile, Neha and Aditya's new single titled 'Goa Beach' also featuring the couple, Tony Kakar, and Kat Kristian has released recently.