10 Bollywood trendsetters who have nailed 'Neon'
The Bollywood stars have worn this with great ease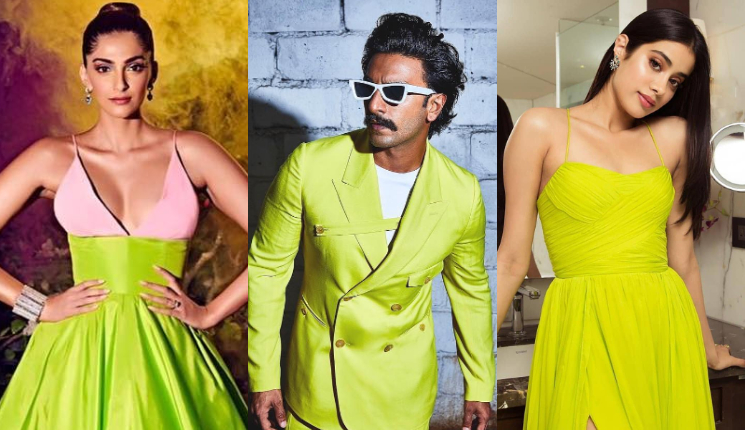 The fashion industry is ever-changing. Every other day we have new trends and fashion taking over and it gets very difficult to keep up with them. But some trends are evergreen and are here to stay forever. But the greatest drawback of any evergreen trends is that they are tricky. Take for example 'neon'.
But who better than our Bollywood stars to look up for pro fashion tips. They mix and match and keep experimenting with different looks. While neon is a tricky color to wear, one can look up to these Bollywood celebrities who have nailed this look.
10 Bollywood trendsetters who have nailed 'Neon'
1. Malaika Arora
Malaika Arora has been known to flaunt her absolutely fit body. The actress has been a mentor to several upcoming models. And so is she known for wearing absolutely good looking dresses. She has also nailed the neon look with the utmost ease.
2. Alia Bhatt
Alia Bhatt as bubbly and bright as is she has brought out the best in her outfit with all the others. The actress has stunned and stood out in this neon gown with minimal makeup and accessories. The actress has a sleek hair do nd it works well.
3. Deepika Padukone
Ever since the #deepveer phenomena came to existence, Deepika Padukone has started to stun us with her outfits. Deepika Padukone seems to have taken a great deal of inspiration from her husband regarding experimenting outfits. She looks great in this airport outfit which is in neon.
4. Kiara Advani
As sweet as she is, the above outfit is just sweeter and just perfect. Pairing a bright neon top with some bottoms of some earthy shade has just made it clear that one came to subdue the tone of neon. It doesn't seem to be as bright anymore and thus not as flashing to our vision.
5. Ranveer Singh
Who van ever doubt Ranveer Singh's choice of color and outfits. The actor has been known to experiment and it has been perhaps contagious as his lady love has taken in some inspiration. This neon suit just stands out and turns out to be an easy attention grabber.
6. Parineeti Chopra
Parineeti Chopra may not hit the headlines every other day for her outfits, but he definitely she has a great sense of fashion. She looks absolutely great with her neon green outfit. The young lady is has been rocking the show with this neon dress.
7. Janhvi Kapoor
Janhvi Kapoor and her princessy looks have been well flattered with this neon slit gown. One could actually try wearing a neon gown with minimal accessories and makeup and sleek hair. She has always been known to a glamazon ever since she stepped into the media light, but then she just keeps up to the tag very easily.
8. Disha Patani
Disha Patani and her killer body can easily go on with any dress of hers. So she just stuns all over again in this neon jumpsuit and the messy hair.
9. Sonam Kapoor
The original glamazon and Bollywood diva, Sonam Kapoor has never been wrong with her dresses. The actress has been known to curate great looks and combinations. And once again we have a gown in our view. It has been repeatedly proved that we let neon do all the talking rather than adding accessories. Sonam Kapoor has finished the look with a sleek high hair updo.
10. Karan Johar
Karan Johar is second to Ranveer Singh in experimenting looks. He looks dashing in this neon outfit and has nailed it well. The background has neon pink which somehow makes the neon stand out really well.
Also Read: 10 Actresses Who Nailed The Off-Shoulder Look