Netizens in India, Nepal troll Beijing after 'fake' claims on Mount Everest
Netizens in India, Nepal troll Beijing with '#BackOffChina' trend after 'fake' claims on Mt Everest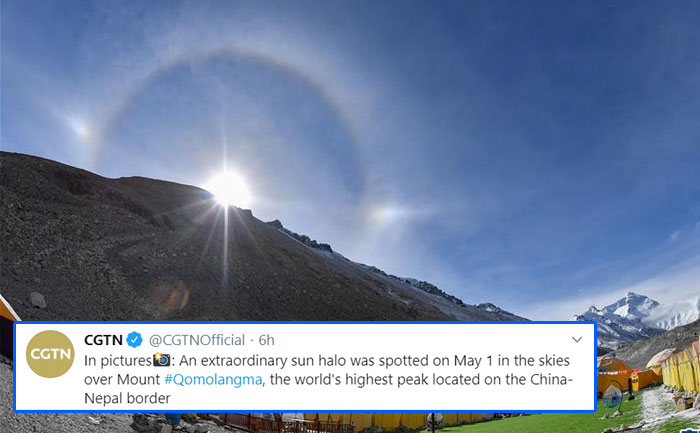 Beijing's state-run CGTN's tweet featured Mount Everest as located in China's Tibet Autonomous Region'. This sent a wave of anger among Indian and Nepal netizens who soon trolled the communist country for false claims. '#BackOffChina' trended on Twitter.
It all started with CCTN's May 2 tweet speaking of an 'extraordinary halo' over Mount Everest. However, the words claiming Mount Qomolangma was the world's highest peak 'located in China's Tibet Autonomous Region' have drawn anger from netizens, Some of them have asked the Government of Nepal to take strict action over the social media post.
In pictures📸: An extraordinary sun halo was spotted on May 1 in the skies over Mount #Qomolangma, the world's highest peak located on the China-Nepal border pic.twitter.com/TMEY5aT4yl

— CGTN (@CGTNOfficial) May 10, 2020
"#backoffchina Stop Spreading false new Mt.Everst is located in Nepal, not in china," said a Twitter user from Nepal.
"This is our Mount Everest (8848 ht) we don't want this to used and marked as yours. nepal government should act upon this. This is unprecedented words that have been used here. this is unacceptable. #backoffchina," tweeted another.
Check out the tweets by netizens slamming claims,
(#Qomolangma) Mt. Everest is located at Nepal not in border of China and Nepal. And how can they measure it by themselves. Am I being misunderstood or are they proving it that they always spread false information. #Everest

— Shristi Shrestha (@Shristi74532245) May 10, 2020
Rest of the world knows the world's highest peak as #MountEverest in Nepal but China always quotes #Qomolangma and finds it in Tibet from where it expelled #DalaiLama and native Tibetans! What's wrong with the communist mentality, will they ever respect their little neighbour?

— Boz Baral (@BozBaral) May 10, 2020
As per HT report, Nepal and China had signed a border dispute resolution agreement in 1960 according to which it was decided that Mount Everest will be divided. The southern part of it will belong to Nepal and the Northern part to Tibet Autonomous Region which China claims as its own.
The recent tweet by CGTN clearly reflects the ambitious plans of China. This move can cause a rift between the two nations.
Also Read: India, China face-off along Sikkim border, several soldiers injured