Netizens fans trend #BoycottBingo; slam Ranveer Singh for mocking Sushant Singh Rajput in Ad
On Thursday, netizens slammed Bingo for their latest advertisement that featured Ranveer Singh and claimed that the AD mocked Sushant Singh Rajput.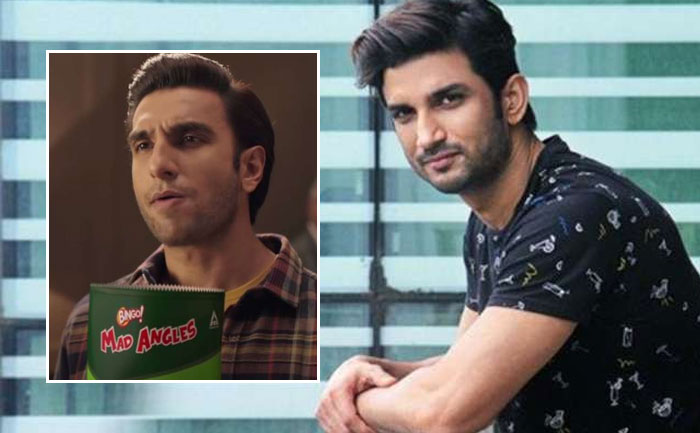 On Thursday, Sushant Singh Rajput's fans started trending the hashtag #BoycottBingo as their latest advertisement did not go well with the netizens. The AD featured Ranveer Singh, who is the brand ambassador of the brand, and they claimed that the AD mocked the late actor.
In the AD which is titled, "Beta, aage Kya Plan Hai?", Ranveer is seen attending a house party and his relatives keep asking what are his plans for the future. To which Ranveer has a bite of the Bingo chip and responds to them by talking about some scientific words like, paradoxical photons, algorithms, and aliens. This offended SSR's fans and they felt that it insulted SSR's love for science. Not just that AD, netizens also slammed Ranveer for being a part of the AD.
Watch the AD:
Check out the Twitter reactions:
They are insulting SSR 😡😡
dislike it 👎👎😤😤 #BoycottBingo#BoycottBingo#RepublicRoar4SSR#BoycottBollywood pic.twitter.com/W4O000Vrhf

— vaibhav@ 🇮🇳🇮🇳🚩🚩 (@Vaibhav26061434) November 19, 2020
#BoycottBingo : @BingoSnacks Takedown that New Bingo Ad with Mr Cartoon – Ranvir Ching !
It Indirectly Points to Our Sushant Singh Rajput. If you'll not take it down & will not remove Mr Ranvir Cartoon Ching ,You'll have to face Further Consequences from the public by boycotting pic.twitter.com/bwR5gAmE1l

— Ҡıʀaռ 🦋 (SSRF) ||1D-MUTUALS CHECK PINNED TWEET 💫 (@zayniesgal) November 18, 2020
You can talk about Photons but you need a genius brain like Sushant to understand photons!#BoycottBingo

— Tweety (@Tweetycutie18) November 18, 2020
See how Ranveer Singh and bingo together make fun of SSR.
Their tagline should be "Brand of India but not pride of India" #BoycottBingo#RepublicRoar4SSR pic.twitter.com/CJcSu7KeCP

— DAYANAND BAIRAGI (@Imonly4sushant) November 19, 2020
After receiving such massive social media backlash, Bingo which is an ITC product issued its official statement, which read as: "A completely false, erroneous and mischievous message is being posted/circulated alleging that an advertisement of Bingo! is making fun of a late Bollywood celebrity. Such kind of erroneous messages are knowingly spreading falsehoods. We request you to not fall prey to such mischievous posts."
"The recent Bingo! Advertisement was shot more than a year ago in October 2019. It is being aired this year because of delay in the launch of Bingo! Mad Angles Cheese Nachos and Bingo! Mad Angles Pizza due to the Covid-19 pandemic."
ALSO READ: Twitterati Trend Boycott Amazon For Hurting Religious Sentiments-View