Nick Offerman on Breaking Quarantine to Film Parks and Recreation Special
Parks and Recreation reunion raised funds for Feeding America amid the coronavirus pandemic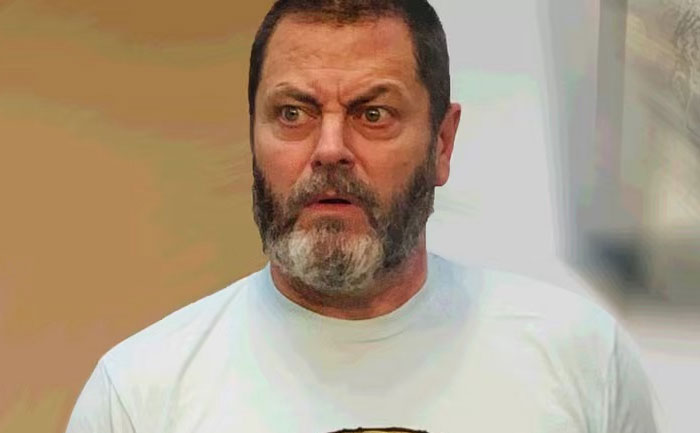 Nick Offerman, who played the role of Ron Swanson on the hit sitcom Parks and Recreation, was last seen as a tech CEO named Forest in FX on Hulu's limited series Devs. However, the actor reprised his role for a special virtual reunion episode of Parks and Recreation to raise funds for Feeding America amid the coronavirus pandemic.
In a recent interview with Variety, the actor discussed the special virtual reunion episode of Parks and Recreation. Nick Offerman also shared what it was like to switch back to Ron Swanson after his role on Devs.
"It's kind of like pulling your old baseball jersey or your comfy old college sweater out of a drawer to find that it still fits very comfortably."
The actor also shared coming back to Parks and Recreation when he thought a reunion was impossible.
"It was quite moving. We're always aware that there will most likely never be any sort of actual reunion roundup of "Parks and Rec." It seems that, because of the way Mike Schur does things, which involves integrity and quality — for which we're all extremely grateful — I don't think we'll ever come back. It wouldn't hurt my feelings to eat those words at any moment, but it doesn't seem to be the case. And so to get it to get an email from Mike that says, "Hey guys, here's this idea" and put on a little pageant to raise some money, there's a lot going on there."
Adam Scott Talks Coronavirus Special Reunion
Co-star Adam Scott, who played Ben on the show, also said that the current circumstances were the only situation for a reunion while talking to Variety.
"I never thought we would do this because of the particular brand of ending it had," Scott tells Variety. "Jumping into the future is a reunion-proof ending in a lot of ways. But when Mike [Schur, co-creator] sent the email, it just, at least in my mind, felt like, 'Of course.' This is essentially the only circumstance that would call for a 'Parks' reunion, I think: to help people out. It makes emotional sense, and creative sense as well."
Nick Offerman Broke Quarantine For Filming
Nick Offerman also talked about breaking quarantine to film segments of Parks and Recreation.
"We shot my cabin setting in my wood shop in East Los Angeles. We're doing our best to be good citizens, so we're staying home; I have the shop closed down because we're trying to protect our fellow citizens."
However, they went to his woodshop to shoot some of the stuff.
"Anyway, we had to go to my wood shop and figure out a spot that didn't have any tools or any obvious wood shop paraphernalia on the walls and figure out how to successfully shoot the stuff with me and Megan — but because the wood shop has a bunch of skylights, to control the lighting we had to do it at night, which gave it even more of a feeling of cat burglary, where we were sneaking out across town during quarantine. It was a lot of fun."
ALSO READ: Nick Grimshaw And Russell Brand Pay Tribute To Caroline Flack