General Elections 2019: Nitish Kumar, Amit Shah say it's 50-50 in Bihar seat sharing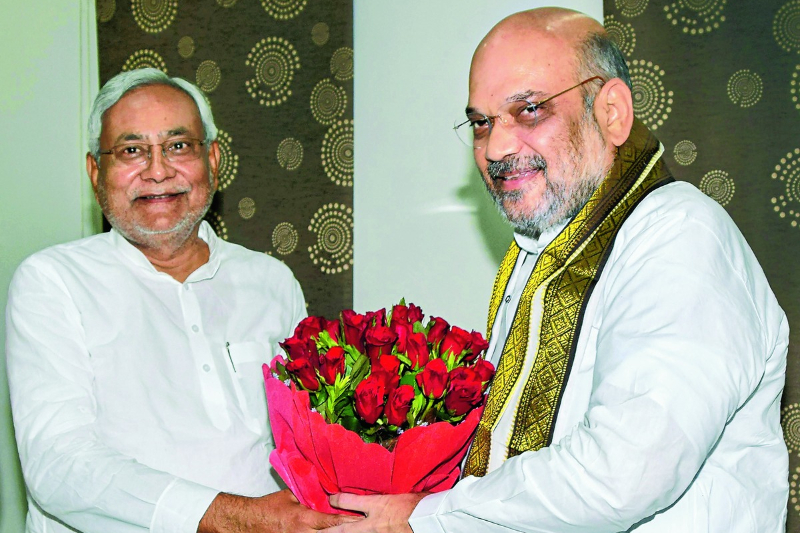 The speculation over seat sharing in Bihar for the General Elections 2019 has been put to rest. Both Janata Dal United supremo and Bihar Chief Minister Nitish Kumar and BJP president Amit Shah have come forward on Friday to announce that seats would be shared equally among the two major parties — JDU and BJP.
While announcing that in New Delhi, Shah revealed that the exact number of seats would be announced in a few days. "It has been decided that BJP and JDU will fight on equal number of seats for Lok Sabha Elections 2019 in Bihar. Other allies will also get a respectable seat share. Numbers will be announced in a few days," Shah was quoted as saying by the NDTV.
Shah also said that minor allies like Upendra Kushwaha and Ram Vilas Paswan would remain in the fold. "Upendra Kushwaha and Ram Vilas Paswan will remain with us," Shah said. He didn't mince his words in saying that all the allies have agreed to lower their share of seats to accommodate JDU which had walked out of the alliance before the 2014 General Elections but made a comeback last year.
Earlier, Nitish Kumar's JDU had said it clearly that it won't allow any numerical advantage to any party by even a single seat whereas BJP sources claimed that they had struck the deal 16-17 in Bihar.
Nitish Kumar's JDU which had managed to win only two seats in the 2014 elections after a split with the BJP, demanded a parity in seat sharing. BJP had won 22 seats even after severing ties with Nitish Kumar. Later it said that it had asked for a 'respectable' number of seats and that seems to have been rejigged a bit.
The main opposition for the BJP-JDU coalition in Bihar is Lalu Prasad Yadav's Rashtriya Janata Dal (RJD) which has come to the forefront after Tejashwi Yadav took charge of the proceedings.
ALSO READ: General Elections 2019: Big gains for Nitish Kumar's JDU in seat sharing