Police constable Dead as violence breaks out over CAA in northeast Delhi
Police constable Dead as violence breaks out over CAA in northeast Delhi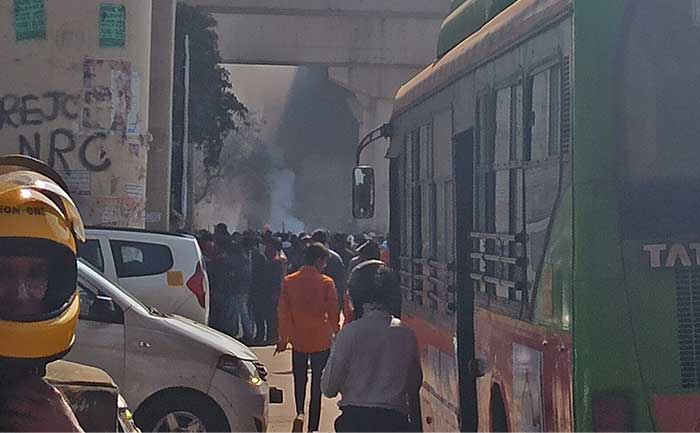 Ahead of the United States President Donald Trump's visit in India's capital, violence broke out in northeast neighbourhoods. According to reports, a Delhi Police Head Constable was killed and Deputy Commissioner (DCP) was injured as clashes broke out in northeast Delhi for the second time in less than 24-hour as pro and anti-Citizenship Amendment Act protesters pelted stones at each other.
The protesters not only pelted stones at each other, but they also set vehicles and shops on fire and transformed India's capital into a war zone.It also comes close on the heels of clashes near Jaffrabad on Sunday (February 23, 2020) afternoon, where more than 1,000 women gathered since Saturday night in a peaceful protest against the Citizenship Amendment Act, or CAA.
The Delhi Metro Rail Corporation (DMRC) shut down the entry and exit gates of Jaffrabad and Maujpur-Babarpur stations. No trains will be halted at Jaffrabad and Maujpur-Babarpur stations.
Meanwhile, Delhi Chief Minister Arvind Kejriwal, Deputy CM Manish Sisodia and LG Anil Baijal have urged Delhities to maintain peace in the city. On Sunday, violence broke at the same area soon after Delhi BJP leader Kapil Mishra gathered along with pro-CAA supporters next to the Maujpur-Babarpur Metro Station, 2 km from the Jaffrabad anti-CAA protest site, in the afternoon.
Watch: Man opens fire during clashes over CAA protests in North East Delhi's Maujpur-Babarpur area

Follow LIVE updates here: https://t.co/W1kuI6jnb3 pic.twitter.com/RNoMYuw4kC

— The Indian Express (@IndianExpress) February 24, 2020
There are multiple disturbing videos and pictures are doing the rounds on social media. In one video, a man dressed in a red shirt can be seen running towards an unarmed Policeman brandishing a gun.
Restoring peace in Delhi, Police resorted to firing tear gas shells in an effort to keep the condition under control. Once the violence escalated, paramilitary forces were called in to restore peace.
Reacting to news of the violence Delhi Chief Minister Arvind Kejriwal called it "very distressing news" and urged Union Home Minister Amit Shah – under whose control Delhi Police rolls up – to "restore law and order and ensure peace and harmony is maintained".