Numerological Predictions for the week ( December 18 to December 24, 2020 ) by Celebrity Numerologist Hirav Shah
Here are the Numerology Predictions from Astro Strategist, Business Astrologer and Celebrity Numerologist Hirav Shah for the week (December 18 To December 24, 2020)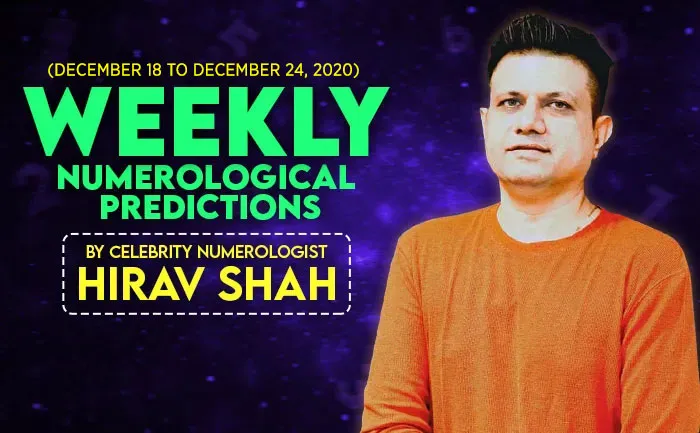 Numerology is a study of numbers in your life. By calculating certain numbers (typically birth names and birthdates are the primary numbers calculated), one may get a clearer picture of themselves. As an element of astrology and fortune-telling, numerology has long been employed to predict future events. World-Renowned Astro Strategist, Business Astrologer, and Celebrity Numerologist Hirav Shah is here with the most accurate Numerological predictions for the week ( December 18 To December 24 ) as per your birth date.
Check out the weekly predictions (December 18 To December 24, 2020) here:
1. Number 1 (SUN): (Those born on the 1st, 10th, 19th and 28th in any month)
Don't make any decisions in a hurry. Outline plans for tasks first. Disagreements with a close relative can lead to bitterness in the relationship. Solve any problem peacefully. Spend some time with people of positive activity. Problems with gas and gas will cause joint pain.
Avoid wearing Pink
Lucky Days: Tuesday
Lucky Colour: Brown
 2. Number 2 (MOON) (Those born on the 2nd, 11th, 20th and 29th in any month)
You will try to maintain the position better through your confidence and efficiency and also achieve success. Most of the work will be completed on time due to your systematic routine. A meeting with a religious person will bring about a positive change in your thinking.
Avoid wearing  Orange
Lucky Days: Thursday
Lucky Colour: White
 3. Number 3 (JUPITER) (Those born on the 3rd, 12th, 21st and 30th in any month)
The advice and cooperation of experienced and elder people will enhance your personality. Which will boost your confidence. Your time will be spent in meeting the needs of the home. Your work will be praised at home and in the community. There will also be new avenues of income. Health will be excellent
Avoid wearing  Green
Lucky Days: Saturday
Lucky Colour: Sky Blue
 4. Number 4 (URANUS) (Those born on the 4th, 13th, 22nd and 31st in any month)
Plans for new tasks will be made and will be successful. Your angry and hasty nature will cause you trouble. So control yourself. You will also have a special contribution in religious activities. Glad to hear any good news from the children. Excessive work will lead to fatigue and lethargy.
Avoid wearing  Red
Lucky Days:  Monday
Lucky Colour: Magenta
5. Number 5 (MERCURY) (Those born on the 5th, 14th and 23rd in any month)
The work that has been going on for the last few times will be solved very easily and simply. The advice of outsiders and friends will be detrimental to you. Don't go for less than your full potential. Also control your anger.
Avoid wearing Purple
Lucky Days: Monday
Lucky Color: Parrot Green
6. Number 6 (VENUS) (Those born on the 6th, 15th and 24th in any month)
Short-term headaches, such as migraines, will be relieved. Also keep in mind that before doing any work, it is important to think about its good and bad levels. If there is a dispute over inherited property at the moment, it is likely to be resolved amicably.
Avoid wearing Golden
Lucky Days: Wednesday
Lucky Colour: Lemon
7. Number 7 (NEPTUNE) (Those born on the 7th, 16th and 25th in any month)
You will feel much more relaxed mentally. Some important work of yours may also be completed. Most of the time will be spent in religious and spiritual institutions. There is a need for discernment and understanding when finalizing any business deal. Your spouse will have full cooperation at home due to your busyness
Avoid wearing Grey
Lucky Days:  Friday
Lucky Colour: Orange
8. Number 8 (SATURN) (Those born on the 8th, 17th and 26th in any month)
Any new order or deal can be finalized. Do not make any plans for the future at this time in the workplace. Appearances can lead to false positives. It is becoming a situation of disagreement with a close relative. Cervical pain can be irritating.
Avoid wearing Off White
Lucky Days: Sunday
Lucky Color: Yellow
 9. Number 9 (MARS) (Those born on the 9th, 18th and 27th in any month)
Improve your present by learning from your last mistakes. At this point most of the work will be done according to your mind. Receiving any good news will create an atmosphere of happiness in the home-family. Avoid coming into contact with people with negative activity while travelling. Think about the pros and cons of any decision.
Avoid wearing Brown
Lucky Days: Friday
Lucky Color: Yellow
Celebrities of the week :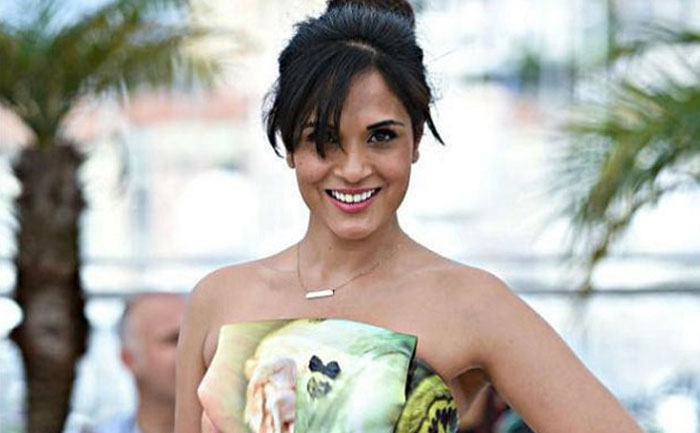 December 18 – Richa Chaddha
December 19 – Mahie Gill
December 20 – Sohail Khan
December 21 – Govinda
December 21 – Karishma Tanna
December 24 – Anil Kapoor
ALSO READ: Numerological Predictions for the week ( December 11 To December 17, 2020 ) by Celebrity Numerologist Hirav Shah