Numerological Predictions for the week (February 12 to February 18, 2021) by Celebrity Numerologist Hirav Shah
Here are the Numerology Predictions from Astro Strategist, Business Astrologer and Celebrity Numerologist Hirav Shah for the week (February 12 to February 18, 2021 )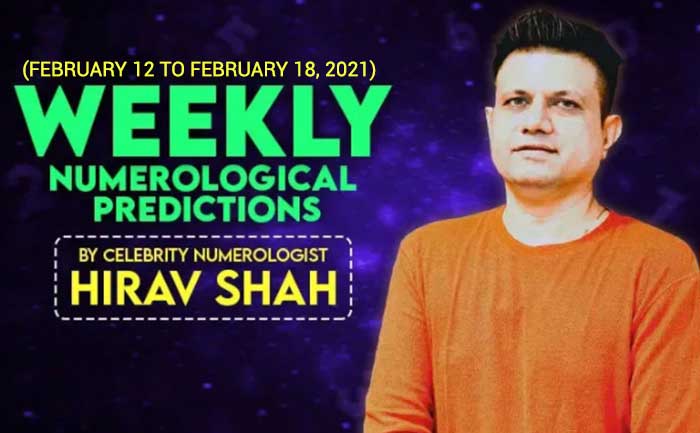 Numerology is a study of numbers in your life. By calculating certain numbers (typically birth names and birthdates are the primary numbers calculated), one may get a clearer picture of themselves. As an element of astrology and fortune-telling, numerology has long been employed to predict future events. World-Renowned Astro Strategist, Business Astrologer, and Celebrity Numerologist Hirav Shah is here with the most accurate Numerological predictions for the week (February 12 to February 18, 2021 ) as per your birth date.
Check out the weekly predictions (February 12 to February 18, 2021 ) here:
1. Number 1 (SUN): (Those born on the 1st, 10th, 19th and 28th in any month)
You will get the full result of your hard work. Will also be interested in spiritual activities. You may want to consider making a small change in your routine for better results. There will be visits with close relatives at any ceremony. Happiness will come from meeting each other. Health can be a little softer.
Avoid wearing Blue
Lucky Days: Monday
Lucky Colour: Orange
 2. Number 2 (MOON) (Those born on the 2nd, 11th, 20th and 29th in any month)
You will complete your daily work in peace and properly. Consult an expert in legal matters, you will find the right solution. The economic situation may be a little weak at this point. Avoid doing dangerous tasks. Disputes over any inheritance can be resolved by mutual consent and understanding.
Avoid wearing Golden
Lucky Days: Sunday
Lucky Colour: Water Colour
 3. Number 3 (JUPITER) (Those born on the 3rd, 12th, 21st and 30th in any month)
There will also be positive discussions on land issues. The timing is right for the task you are planning to start from the last few times. Disputes with neighbours can escalate. Being involved in finance and the future of the family will create energy and vigour in you.
Avoid wearing Orange
Lucky Days: Thursday
Lucky Colour:  Navy Blue
 4. Number 4 (URANUS) (Those born on the 4th, 13th, 22nd and 31st in any month)
The time is right for starting any new work in the field. Strong willpower may be slightly reduced. Don't panic about your responsibilities. Achieving your goals in business requires a lot of hard work. With hard work and perseverance, you will be able to overcome adversity.
Avoid wearing Pink
Lucky Days: Friday
Lucky Colour: Dark Green
5. Number 5 (MERCURY) (Those born on the 5th, 14th and 23rd in any month)
If you are planning for the future, think about each level. At this point, you will experience loneliness. Learn to cope rather than run away from situations. Avoid new investments. It would be your mistake to trust everyone. Make any decision wisely.
Avoid wearing Brown
Lucky Days: Thursday
Lucky Color: Grey
6. Number 6 (VENUS) (Those born on the 6th, 15th and 24th in any month)
You will have a special role to play in resolving ongoing differences with the brothers. The student class will be fully focused on their studies. Your reputation will grow in social activities. The economic graph will also strengthen. You will also have a good time in the activities of your interest. Improving parental health will bring relief.
Avoid wearing Red
Lucky Days: Saturday
Lucky Colour: White
7. Number 7 (NEPTUNE) (Those born on the 7th, 16th and 25th in any month)
Don't plan any kind of trip. The cost will be high but don't panic. These costs will be for your little good. There will be stress in the family due to not being able to get along well in family and business life. I will fulfill your duties and responsibilities. If any rupee is trapped then the time is right to receive it.
Avoid wearing Green
Lucky Days: Sunday
Lucky Colour: Yellow
8. Number 8 (SATURN) (Those born on the 8th, 17th and 26th in any month)
Do not take any risk to fulfil your wish. Don't discuss your activities and plans with anyone. Emotions are your biggest weakness. It is very important to overcome it. Otherwise, someone may take advantage of you. You will be in good health.
Avoid wearing Violet
Lucky Days: Tuesday
Lucky Color: Cream
 9. Number 9 (MARS) (Those born on the 9th, 18th and 27th in any month)
You will get the right result of your hard work in the business. The time has come to make your plans worthwhile. Your contacts with big executives and influential people will grow exponentially. You will win the legal case. Young people will also breathe a sigh of relief as career barriers are removed.
Avoid wearing Magenta
Lucky Days: Wednesday
Lucky Color: Sky Blue
Celebrities of the week :
February 13 – Kunal Roy Kapoor
February 13 – Rashmi Desai
February 15 – Randhir Kapoor
February 15 – Ashutosh Gowarikar
February 16 – Arunoday SIngh
February 18 – Sajid Nadiadwala
Also Read: Numerological Predictions for the week (February 5 to February 11, 2021 ) by Celebrity Numerologist Hirav Shah