An Open Letter To Virat Kohli…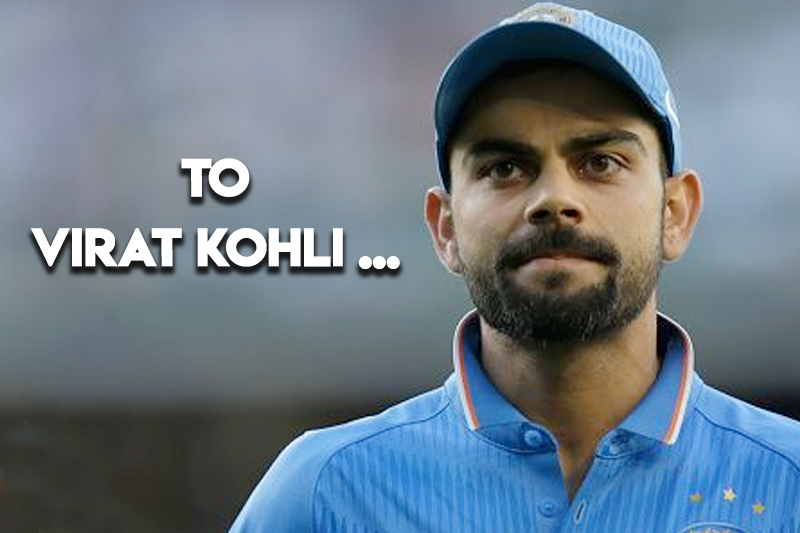 Dear Virat Kohli,
You have always been the blue-eyed boy of the media. A media favourite, an interviewer's delight and a fandom equal to match that of the legendary Sachin Tendulkar. The nation never fails to rise up from their seats and cheer you every time you hit a four or a six, be it test cricket, ODI or IPL. You sent the nation in a tizzy when you announced your marriage with actress Anushka Sharma, who is also a blue-eyed girl for glamour loving Indians. Your humble beginnings to being one of the highly paid sportsmen in the world, is truly an inspirational story for many. I remember growing up in a cricket frenzied Mumbai, when everyone wanted their son to be a Sachin Tendulkar. The demographic has changed slightly and people want their sons to be a 'Virat Kohli'. The nation looks upto you and expects you to take a stand on important issue, just like any other popular sports figure in the world.
However, the recent video you posted, where Anushka Sharma schooled a man on 'littering in public' spoke volumes about how you need to brush up on outrages and social justice system. In a nation where every minute a woman is raped, molested and left to die on the roads, there is nothing that you have to offer. A report where Thompson Reuters termed India as the most dangerous country in the world for women, hardly any celebrity chose to speak about it. You can argue that you need not be a social commentator or spearhead every issue in the country, but the least an Indian can expect from a celebrity is to address the pressing issues or happenings in the country. Mumbai was declared open-defecation free by the Chief Minister of Maharashtra, Devendra Fadnavis, however the reality was a farcry from the claims. He went further to declare Maharashtra as open-defecation free, but rural Maharashtra continues to suffer from the government apathy. However, when you found a man littering on the road, it wasn't the authorities that you questioned, instead you filmed a video and uploaded it on Twitter, thereby attracting only few people in this country who have access to the social media. It seemed like you wanted to misuse your popularity with the masses and indulge in virtue-signalling instead of posing strict questions to the civic authorities. The country is engulfed in mob-lynchings and stifling of resenting voices. Yet, if one is to follow you on Twitter what we will get to see are your posts on endorsing brands or events. Your 23.5 million followers will only see you, plugging Uber, an app-based taxi service that is a multi-billion dollar global company. What you will not see is a word on statues being brought down, farmers committing suicide or businessmen fleeing the country.
What I can suggest you is to take a leaf out of Sri Lankan cricketers' books. It is an irrefutable fact that the life of an Indian cricketer in public is not an easy one. Sri Lanka's cricketers do not face the kind of day-to-day pressures that India's biggest stars have to endure. However, Sri Lanka and India are similar in more than one way. Even though both the countries are divided by a border, the issues faced by the countries are similar. Sri Lanka and India both have been marred by communual violence, riots and torn apart by violence. The diplomatic relations have always been under the scanner, but what we must learn from the cricketers is how they use their influence to address socially relevant issues. The Sri Lankan counterparts have always openly shared their views and have even taken on the establishment.
The violence in Kandy forced the government to declare a state of emergency, something that sounds a lot more dire than it is, in Colombo. And without being asked Kumar Sangakkara, a Kandyan, took to Twitter. "No one in Sri Lanka can be marginalised or threatened or harmed due to their ethnicity or religion. We are One Country and One people. Love, trust and acceptance should be our common mantra. No place for racism and violence. STOP. Stand together and stand strong."
Where Kumar walks, Mahela Jayawardene can't be far behind. Jayawardene posted: "I strongly condemn the recent acts of violence & everyone involved must be brought to justice regardless of race/ religion or ethnicity. I grew up in a civil war which lasted 25 years go through that."
Sanath Jayasuriya, as always, was more bullish: "Disgusting and sickening to see the acts of violence in Sri Lanka. I condemn strongly and to bring the involved culprits to justice. I request people of Sri Lanka to be wise and stay together in these tough times."
Angelo Mathews, the captain, who is missing the Nidahas Trophy because of injury, wrote: "We as Sri Lankans suffered enough through a tumultuous three decade War. We lost many a loved one. Hopes and dreams were shattered in an instant. Many including myself and my family walked the streets in fear and uncertainty. I'm sure many of you too could relate to that."
He further added: "Yet it seems like certain factions of our Country and Society have learned nothing from the past. Do we really need another ethnic crisis? This Nation is OURS we are one PEOPLE and I condemn these acts of violence and hatred. I urge all of You to unite against racism and take a stand against such people spreading hatred and violence. Let's protect OUR NATION. Always give first place to Humanity in the name of Sri Lanka."
We are not expecting you to take a gusty stand like the mighty NBA players who decided to sit through the playing of the National Anthem to protest against the President Donald Trump and his policies. We are not asking you to make jokes or memes on the Prime Minister or the President, like the Americans do, but we are asking you to take a principled stand. Narendra Modi who once famously referred to the late Sunanda Pushkar as '50 Crore Girlfriend'or when he referred to Congress politician Renuka Chowdhary as 'Surpanakha' ( A Witch), has established that he has no respect for women. Back in his Chief Minister days, when asked by a US journalist – why girls in Gujarat are dying of malnutrition, he said it's because they are figure conscious. Yet, when you got married you and Anushka visited Modi to seek his blessings. Especially knowing how he has deserted his wife, why do you expect him to respect and honour the sanctity of marriage?
It is easy to show off muscle strength, especially to soft targets. The video of you and Anushka taking on another privileged man seemed like any other bar brawl in a posh club. But you labelled it as a 'show of courage' when you received flak for it. We could have gone our entire lives without bothering about a rich man having a fight with another rich man. People in this country die from lack of toilets and sanitation, so seeing a man litter the roads is least of their concerns. Exemplery courage is when you take on the establishment or when you come out on the streets to demand rights and stand in solidarity with the ones suffering. But you haven't done any of it. You may not have heard of Prakash Raj, but he is a man who is truly courageous. Without caring for his brand value or box-office collections or his life, the man is posing tough questions and holding the government accountable. The man has stood up for his slain journalist friend Gauri Lankesh, who also was a courageous woman. She did not take videos of people littering the streets but wrote extensively against the wrong-doings of the growing fundamentalism in India. She lost her life fighting and standing up against the right wing bigotry as did Narendra Dabholkar, Govind Pansare and MM Kalburgi. These slain journalists define bravery and courage.
We don't expect you to deliver sermons or write op-eds. We don't ask you to come out on streets and join protest marches. We expect you to take a principled stand and use your social media and real life fan following to address relevant issues. Surely, it won't be a matter of nerves for a man who takes on his cricketing opponents to task on the cricket field.
Sincerely,
An Indian