Oxygen Leak Tragedy: Uddhav Thackeray announces Rs. 5 lakh aid for kin of the deceased
Maharashtra Chief Minister, Uddhav Thackeray has announced Rs. 5 lakhs aid each for the kin of the deceased in the Nashik oxygen leak tragedy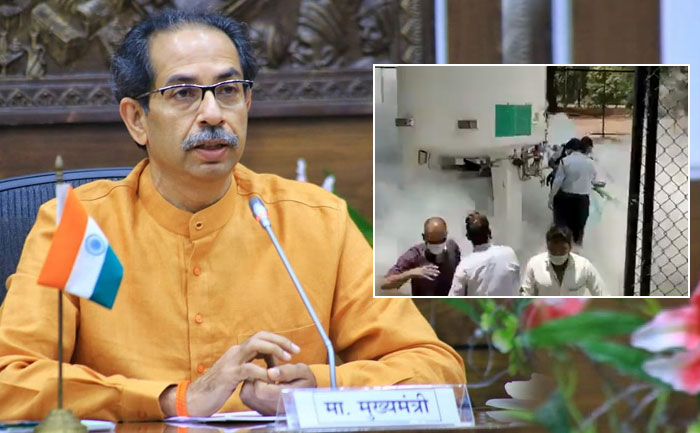 On Wednesday i.e. April 21, a tragic incident of oxygen leak took place in Nashik (Maharashtra). Around 22 COVID-19 patients who were kept on the ventilator died within a matter of 30 mins. Around 80 other patients who were admitted to the hospital had to be shifted to another hospital immediately. CM Uddhav Thackeray announced a high-level probe in the matter. Thackeray has also announced the aid of Rs. 5 lakhs each for kin of the deceased.
Expressing his grief over this tragic incident, Uddhav Thackeray announced financial aid for the families whose relatives died in the oxygen leak. The official statement issued from CM's side states, "The kin of every person died in this incident will get compensation of Rs five lakh. I appeal to people to not indulge in any kind of politics."
He said, "The oxygen leakage that led to the death of 22 people is a shocking incident. I cannot express my grief in words. Such incidents are devastating, especially when we are trying hard to save every COVID-19 patient. I do not know how to console the families who lost their members in this accident. Though it is an accident, there will be a thorough probe into it."
Reacting to this tragic incident PM Narendra Modi, Amit Shah and few other renowned politicians shared tweet posts. Take a look at their posts here below:
The tragedy at a hospital in Nashik because of oxygen tank leakage is heart-wrenching. Anguished by the loss of lives due to it. Condolences to the bereaved families in this sad hour.

— Narendra Modi (@narendramodi) April 21, 2021
नासिक के एक अस्पताल में ऑक्सिजन लीक होने से हुई दुर्घटना का समाचार सुन व्यथित हूँ। इस हादसे में जिन लोगों ने अपनों को खोया है उनकी इस अपूरणीय क्षति पर अपनी गहरी संवेदनाएं व्यक्त करता हूँ। बाकी सभी मरीजों की कुशलता के लिए ईश्वर से प्रार्थना करता हूँ।

— Amit Shah (@AmitShah) April 21, 2021
For all the latest news reports and gossips, stay hooked on this space.
Also Read:    Nashik Oxygen Leak: 22 COVID-19 Patients Died After Tank Leak Incident