Pakistan World Cup ad mocks Abhinandan Varthaman's capture in Pakistan; faces backlash from Indians
The spook has irked the Indians and they have slammed the ad.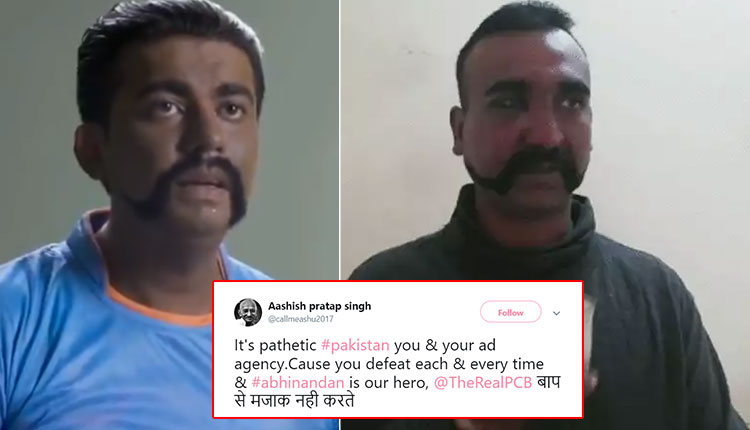 India vs Pakistan World Cup 2019 match is at the Old Trafford Cricket Ground in Manchester on June 16. This is the first and most-anticipated match of the campaign between India and Pakistan. Just a few days left for the awaited match and one of TV channels of Pakistan has shared an advertisement on World Cup 2019 that is making a mockery of the capture of Indian Air Force Wing Commander Abhinandan Varthaman by the Pakistani forces.
In the video, we see a model wearing a blue jersey and holding a cup mimicking Wing Commander Abhinandan Varthaman when he was captured by Pakistani military after the Balakot airstrike. In the ad by Pakistan's Jazz TV the model is answering questions.
A voice in the background is heard questioning the impersonator of Abhinandan as who are the players in India in the match against Pakistan on Sunday. He then says, "I am not supposed to tell you this". He was then asked, "How is the tea?" to which the impersonator says, "Tea is really fantastic". The interrogator then asks him to leave and says, "Achha chalo, you can leave." As he was about to leave, the interrogator stops him, "Ek second ruko! Cup kahan leke ja raho ho?"
Here's the video.
Jazz TV advt on #CWC19 takes the Indo-Pak air duel to new level. It uses the air duel over Nowshera and Wing Co Abhinandan Varthaman's issue as a prop. @IAF_MCC @thetribunechd @SpokespersonMoD @DefenceMinIndia pic.twitter.com/30v4H6MOpU

— Ajay Banerjee (@ajaynewsman) June 11, 2019
This mockery has irked the Indians and they took to Twitter handle to slam the ad.
The advertisement is an epic fail because Pak hasn't won a single match against us in the World Cup and the whole #Abhinandan incident was a win for us as well, seeing how he was returned to us safely.

Think thoroughly before you try to start a banter, Pak. #EpicFail #CWC19 https://t.co/CHgsJOOFLz

— Rahul Mishra (@RahulDKMishra) June 11, 2019
#Pakistan..We @happyprodindia are going to retaliate back on this. No one can mock our hero #Abhinandan….

We will retaliate here and our team will retaliate on the field… https://t.co/VEUfggxlAK

— Happy Productions India (@HAPPYPRODINDIA) June 11, 2019
It's pathetic #pakistan you & your ad agency.Cause you defeat each & every time & #abhinandan is our hero, @TheRealPCB बाप से मजाक नही करते https://t.co/V1VgmxIuyU

— Aashish pratap singh (@callmeashu2017) June 11, 2019
This is the our hero's personality, no one can remain untouched. But next time plz use some good actors. Btw #ShikharDhawan exclusion must be a relief for many competitors #CWC19 #abhinandan pic.twitter.com/mrBFLFLh2d

— Megha Jain🇮🇳 (@i_meghajain) June 11, 2019
What do you have to say on the ad? Do let us know.
Also Read: IAF Abhinandan Varthaman's Story Is Included In Rajasthan School Textbooks