Parliament Monsoon Session Day 2 Live Updates: Dr Jitendra Singh: Economic reforms by Modi govt are social reforms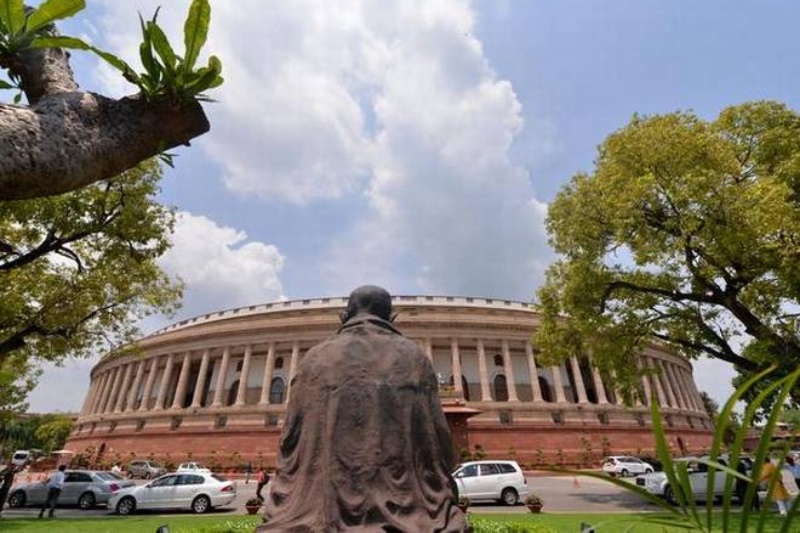 Check out the Live Updates here:
06:20 pm:
Rajya Sabha adjourned for today, will resume tomorrow at 11 am.
Important bills like the Fugitive Economic Offenders Bill 2018, Right to Information (Amendment) Bill 2018,  and Prevention of Corruption (Amendment) Bill 2013 are likely to be taken up in Parliament today.
05:54 pm:
Dr Jitendra Singh MoS Personnel, Public Grievances and Pensions: Spoke about 'Zero tolerance, ease of governance, increased citizens' involvement through civil servants.' He also mentioned that the government no compromise stance where bribery is concerned and ensuring stringent measures against corruption. He further added, new laws  are introduced because the old and prevalent laws were not properly implemented and hence they were unable to meet the expectations of the society.
He also explained that most of the economic reforms brought by the current government are social reforms too. These continuous and cumulative reforms has brought in realms of change in the society.
04:15 pm:
Congress MP Digvijay Singh takes jibe at PM Modi by calling him 'Pradhan Sevak,' questions his political will on implementing the Lokpal effectively. Also rakes up the issue of Vyapam scam.
04:04 pm:
CPI MP D Raja, questions the current government's stance on Lokpal and giving autonomy to the national probing agencies like CBC, CBI, ED and CIC. States that Judiciary should be above all and raises his concern on Prevention of corruption Act 1988 and scams in banking sector
03:20 pm:
Rajya Sabha Chairman @MVenkaiahNaidu spoke about the misuse of social media. He called it a serious issue that needed to be stopped. @VPSecretariat #MonsoonSession2018 https://t.co/xb5Sf5JaR4

— Rajya Sabha TV (@rajyasabhatv) July 19, 2018
02:25 pm:
Rajya Sabha member Anand Sharma, INC, questioned the current government, "Why no Lokpal law was not implemented in the past four years?"
Pichhle 2 saalon mein itna paisa gaya hai desh ke bahar, jitna dashkon mein nahi gaya hai. In last 2 yrs money going to Swiss Banks has increased. You said money will be deposited into people's bank accounts but instead of that money went outside India:Anand Sharma in Rajya Sabha pic.twitter.com/egSskzxyOa

— ANI (@ANI) July 19, 2018
01:13 pm:
Shashi Tharoor on staging a walk out protest after Rajnath Singh's statements on mob lynching:
The Home Minister's statement in Lok Sabha on mob lynching was not satisfactory at all, that is why we staged a walkout from the house. This is not a game of ping pong that states and Centre keep shifting responsibilities: Shashi Tharoor,Congress MP pic.twitter.com/Tn0BMCm1XA

— ANI (@ANI) July 19, 2018
01:09 pm :
Lok Sabha adjourned till 2:10 pm.
01:04 pm:
Rajya Sabha adjourned till 2 pm.
12:57 pm:
Telegu Dasam Party's MP J C Diwakar Reddy has said that he would stay away from the parliament during the No Confidence vote as it was "just a routine" and "the government is not going to fall anyway"
12:40 pm:
Ruckus in Lok Sabha, opposition parties Congress, NCP and RJD staged a walk out after Rajnath Singh's statements on mob lynching.
12:38 pm:
After BJD MP Baijayant Jay Panda's resignation and Jose K Mani's nomination to the Rajya Sabha, the effective strength of the Lok Sabha has fallen to 533 with the majority mark at 266 ahead of tomorrow's no confidence vote.
12:29 pm:
Home Minister Rajnath Singh spoke about the mob violence incidents involving social media rumors and said that the government has asked social sites for regulations for such rumors.
These are unfortunate incidents.We had issued an advisory on this recently, and one in 2016 also. Social media being used to spread fake news and rumours is also a reason. We have asked social sites for regulation: HM Rajnath Singh in LS on mob lynching incidents

— ANI (@ANI) July 19, 2018
11:25 am:  
BJP MP Shatrughan Sinha will vote against the No Confidence Motion
BJP MP Shatrughan Sinha will vote against the #NoConfidenceMotion (file pic) pic.twitter.com/SFoPa7cmQ2

— ANI (@ANI) July 19, 2018
10:55 am: YSRCP MPs stage protest in Parliament premises demanding special status for Andhra Pradesh.
………………………………………………………………………………………………………………………………………………………..
The Monsoon Session of the Parliament to continue on the second day from 11 am on Thursday and major pending Bills are expected to be passed in the Upper House. The Union government is likely to introduce and pass crucial Bills and among the major one is 'Triple Talaq Bill'.
Among the Bills that passed with majority in the Rajya Sabha on Wednesday were State Banks (Repeal and Amendment) Bill 2017 and Requisitioning and Acquisition of Immovable Property (Amendment) Bill 2017. Also, on today's agenda key Bills like RTI Amendment Bill and Eco Offendness Bill are likely to be passed. As there has already been discussion held earlier on these Bills in the Lok Sabha and Rajya Sabha in the previous sessions of the Parliament, ruckus over the issue is likely to be expected.
With the RTI Amendment Bill that is pending, if passed, gives power to the Centre over the commission to decide the wages of the government employees. And Eco Offendness Bill, if passed, will help in curbing bank frauds. Under this no one would be able to leave the country with public money and strict action would be imposed. However, a loophole says that this Bill can only be implemented on frauds over Rs 100 crore.
Opposition had already said that they would bring a no-confidence motion in the Parliament over relevant issues like mob lynching, farmers issues, women's safety and others, which was approved on Wednesday. On Friday ruckus is expected in both the houses. In this current Session, 6 Bills to replace Ordinances to be passed, with 18 sittings in 24 days.