Bihar Rains: Orange Alert In Patna, Vaishali, Begusarai, Khagaria
Bihar Rains: Orange alert in Patna; BJP MP Ram Kripal Yadav falls into river in flood-hit Patna,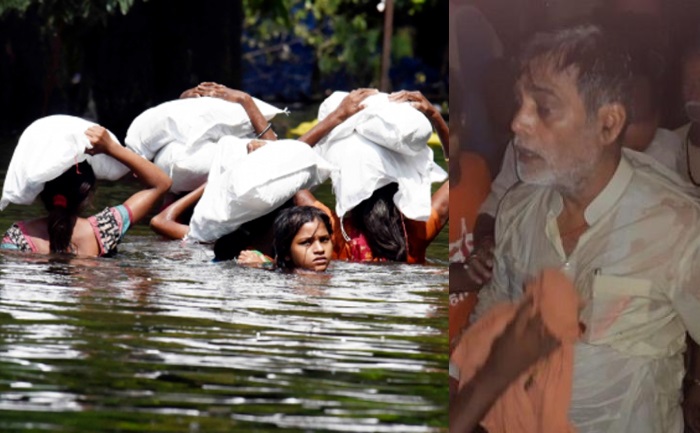 State capital Patna is among the worst-affected 15 districts where heavy rains last week triggered floods. Many areas in Patna are still inundated. Now an Orange Alert has been issued for Patna, Vaishali, Begusarai, and Khagaria districts for October 3 and 4, as these areas are expected to receive heavy rainfall. In a shocking incident, BJP MP Ram Kripal Yadav had a narrow escape when he fell into a river while he was surveying the flood-hit areas.
The Bharatiya Janata Party (JP) MP from Patliputra Ram Kripal Yadav had gone to take stock of the flood situation. Yadav and his supporters were standing on a makeshift boat made up of bamboo shoots and inflated tyre-tubes. It tipped as he was trying to cross the river along with his supporters. Locals soon rescued the MP and others. The incident that took place in Dhanarua block of rural Patna was caught on camera.
Check out the video here:
The MP remained unconscious for a few seconds after locals rescued him. He was soon handed over the gamchas by the locals to recover. Yadav was in shock after the incident.
The National Disaster Response Force (NDRF) has rescued over ten thousand people from the state capital. Indian Air Force helicopters have also been dropping relief material to the flood-affected areas. At least 42 people have died in rain-related incidents in Bihar following a torrential spell that took place between September 27 and 30. According to IMD's prediction, Patna is likely to once again receive heavy to very heavy rainfall for the next 48 hours.
Also Read: Bihar Floods: 4 dead,18 lakh affected, six districts under water