Seven Dead As World War-II Vintage Airplane Crashes in Connecticut
World War II-era vintage plane crashes in United States; at least 7 have been reported dead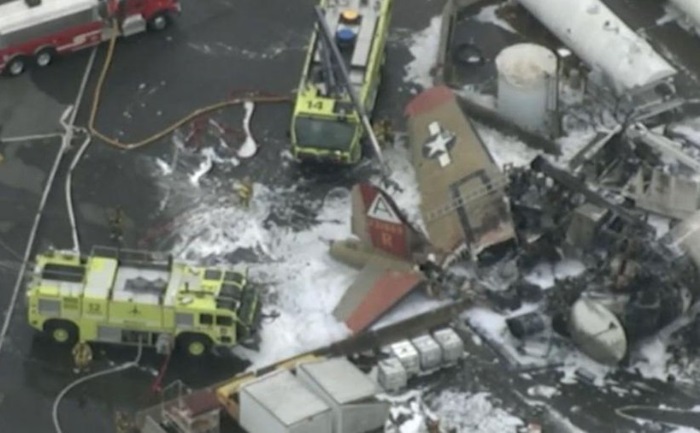 At least seven people were killed when a World War II bomber carrying 13 passengers and crew crashed at an airport in the northeastern US state of Connecticut Wednesday, local media reported. Rescue crews raced to the fiery scene, the airport said, with local media showing video of a plume of thick, black smoke billowing skywards after the crash. The airport was closed for several hours before later reopening.
Multiple injuries reported after a World War II-era bomber plane has crashed just outside Bradley International Airport in #Connecticut . pic.twitter.com/GuNl3Q8P6o

— Raajeev Chopra (@Raajeev_romi) October 2, 2019
As reported by Hindustan Times, The Boeing B-17 aircraft also known as the flying fortress crashed at Bradley International Airport while trying to land around 10:00 am (1400 GMT). Ten minutes after the flight took off at 9:45 am, the pilots radioed the control tower to say they were experiencing problems. The four-engine, propeller-driven plane struggled to get into the air and slammed into a maintenance building at Bradley International Airport as the pilots circled back for a landing, officials and witnesses said.
Ten passengers and three crew were on the aircraft, which was operated by the Collings Foundation, a group catering to aviation buffs who pay to experience vintage planes. The non-profit Collings Foundation is dedicated to the preservation and public display of automotive and aviation-related history, according to its website.
A spokesman for Hartford Hospital, situated 15 miles from the airport, told AFP the facility had received six patients, three of whom were critical. Some of the survivors of the crash were critically injured, authorities said. One person on the ground was also hurt in the crash and a firefighter involved in the response suffered a minor injury.
The National Transportation Safety Board has sent a team of 10 to investigate the cause of the crash.
Also Read: United States suspends $1.66 billion security assistance to Pakistan