Paul Pogba takes a dig at England during World Cup celebrations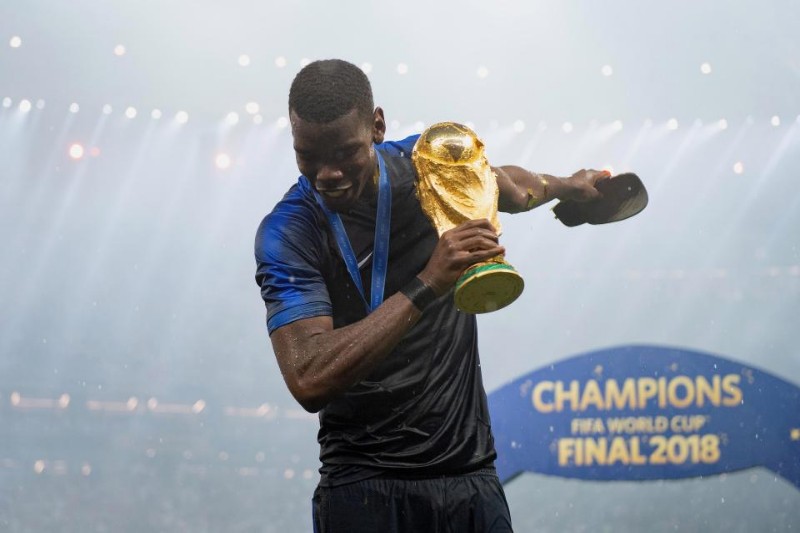 Paul Pogba was at the heart of celebrations as France defeated Croatia 4-2 to claim the World Cup trophy for the second time in their history.
The Manchester United star who put up a solid performance in the final even scoring a spectacular goal, danced long into the night and even trolled the English fans by singing "it's coming home" with the World Cup in his hands.
The song entitled "Three Lions" by David Baddiel and Annie Skinner was released in 1996 to raise hopes of the English fans after the continuous disappointments of England at major international tournaments.
It once again made its foray into Russia as the England supporters dreamt of an unlikely World Cup triumph for the first time since 1966.
The "Three Lions" eventually finished fourth losing 1-2 against Croatia in the semi-final before suffering a 0-2 defeat against Belgium in the third place play-off.
But their unexpected progress into the knock out rounds and their fearlessness approach throughout the tournament made the "it's coming home" line a vociferous slogan amongst fans both in Russia and back home.
And Pogba who silenced his critics with an outstanding performance took the chance to mock England by singing the iconic chant as cradled the trophy.
Pogba: "It's coming home! Na respect, just kidding, just kidding, sorry, just kidding!" ??? #mufc pic.twitter.com/hE5jZsQB3z

— United Xtra (@utdxtra) July 15, 2018
Pogba in the video posted by United Xtra on Twitter can be heard poking fun at the English fans by chanting "its coming home" funnily while celebrating.
The midfielder however soon realised his mistake and jokingly apologised, before singing the chant once again.
He then passed the trophy to another teammate and once again apologised saying, "Just kidding, just kidding, sorry. Just kidding, sorry," only that this time he was sincere and serious in his apology.
France landed at the Paris airport on Monday, where they were greeted by a large number for fans, waiting there to receive their heroes.