Pic: Zomato boys queue up outside a popular Biryani joint
This picture of Zomato boys outside Bawarchi restaurant in Hyderabad proves Indians love biryani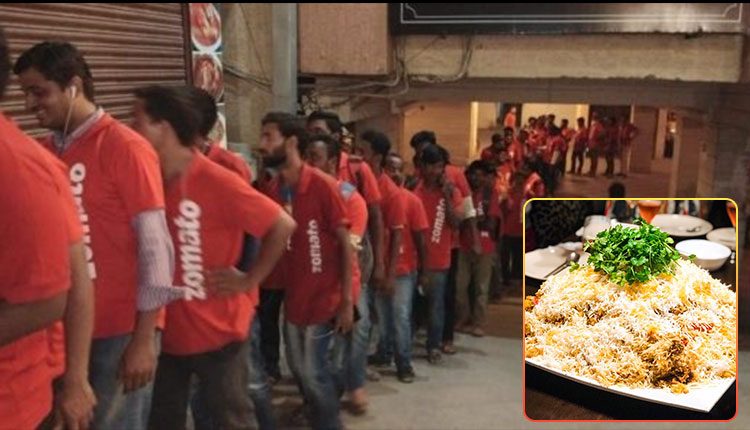 Biryani is one of the most popular dishes that is a hot favorite of many all over the country. Indians love their biryani and each region specializes in one. But Hyderabad's Biryani that is a mouth-watering combination of marinated meat, some basmati rice, flavors of bay leaf, saffron, and cardamom served on a plate is unanimously loved by all.
How popular is the cuisine is revealed by this picture shared by Zomato – a restaurant search and discovery service? In the picture shared by them, we see a sea of their executives queuing up outside a restaurant to collect their orders of biryani.
Check out the picture here:
Which restaurant from your city deserves this kind of a queue? ? pic.twitter.com/dua2Yge7C1

— Zomato India (@ZomatoIN) April 10, 2019
The said picture is taken outside the iconic Bawarchi Biryani outlet in Hyderabad. In the photo shared by Zomato on Twitter showed men in red, lined up outside the outlet, waiting patiently to pick up their orders. The popular restaurant receives as many as 2000 biryani orders each day just from Zomato, the food delivery app revealed in its annual report.
Oh BTW, this picture was taken outside Bawarchi restaurant in Hyderabad. The total number of orders they receive in a day will blow your mind: https://t.co/M5M6lEceNq

— Zomato India (@ZomatoIN) April 10, 2019
So the next time you are in Hyderabad do make your way to the famous eatery.
Also Read: Hyderabad: Vegetable biryani served with caterpillar at IKEA store, firm fined Rs 11,500