Piyush Goyal trains guns at Congress, mum on Arun Jaitley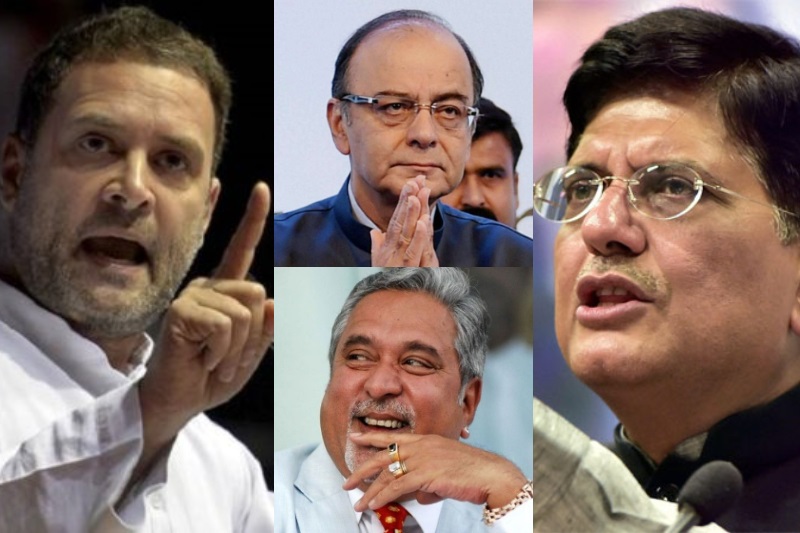 Instead of commenting directly on the alleged meeting between finance minister Arun Jaitley and fugitive Vijay Mallya, Union minister Piyush Goyal took the same old 'parivaar' jibe at the Congress. Blaming the opposition for the 'loot', Goyal said Congress is covering up its sins.
Addressing a press conference, as an attempt to answer the questions and allegations raised by the opposition, Goyal tried to escape from the main issue. Instead of answering, he was seen more into allegations mode, attacking Rahul Gandhi and PL Punia. He stated, "Congress looted the public money. And now, when we are trying to recover the money, we are being blamed instead."
Blaming the Congress for lying to the country on matters that are under investigation, Goyal said, "The parivar (Gandhi family) and party (Congress) looted nation's money…now when we (BJP government) are trying to recover the money and the links are coming in front, then Congress party leaders are telling lies to cover up their sins." Adding further, "This show the propensity to which the Congress can lie to cover-up their sins."
The Union Power Minister also tried to take on Congress leader P L Punia, who had alleged that he saw Jaitley and Mallya meeting in the parliament on March 1, 2016. He asked Punia, "Where was he (Punia) for the two and half years…and what was he doing there, if at all the meeting took place?"
Asked about the discrepancies involved, Goyal said, "Our government never interferes with the way probe agencies function. We allow them the freedom to operate." However, he alleged that it was under the UPA tenure that reserve bank was pressurised to sanction amount to fraudster Mallya. He asked, "Why was the rebate given to Mallya. Congress should clarify what relations they had with Kingfisher airlines."
The Union Minister took the similar route of tackle the situation, like the way Rahul asked questions. As the Congress President had asked for Arun Jaitley's resignation, Goyal advised Rahul to step down on account of charges against him. He even called that Rahul's allegation does not matter, as he himself is an alleged 'fraudster'.
ALSO READ: Arun Jaitley knew about Mallya fleeing: Subramanian Swamy