PM Narendra Modi Changes His Name to 'Chowkidar Narendra Modi' On Twitter
PM Narendra Modi has changed his name from Narendra Modi to 'Chowkidar Narendra Modi' on Twitter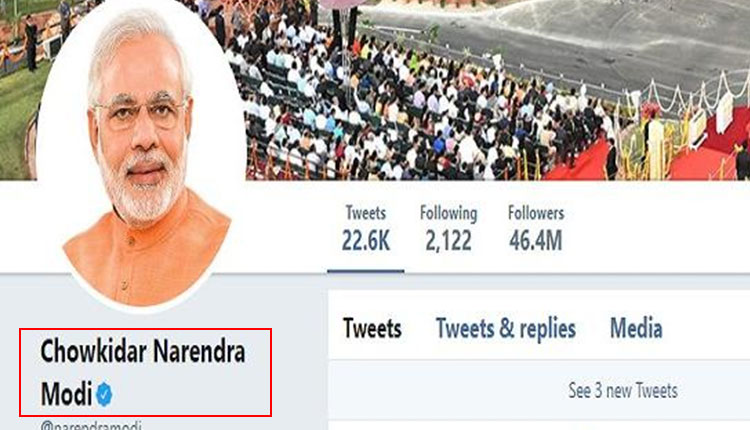 Days after launching a social media campaign #MainBhiChowkidar, India's Prime Minister Narendra on Sunday changed his name from Narendra Modi to Chowkidar Narendra Modi. Yes, following Congress President Rahul Gandhi's extensive criticism over chowkidar, PM Modi has decided to add a prefix Chowkidar on microblogging site,Twitter.
It is to be noted that PM Modi is not the only leaders who has changed his name on Twitter, apart from him BJP Chief Amit Shah, Railway Minister Piyush Goyal and others have also added the prefix 'Chowkidar' in their names on their respective social media handles.
Prime Minister Modi had launched a campaign 'Mai Bhi Chowkidar' on Saturday and said that he standing strongly and serving the nation. PM Modi's move of adding Chowkidar on social media has been appreciated by many on Twitter. As per the reports, the BJP strategists have decided to launch this campaign on the basis of surveys and data analysis.
Commenting on PM Modi's tweet, the Congress party had tweeted,"Important message to Modi: #IndiaBewakoofNahiHai sabko pata hai you are the one & only #SuitBootKaChowkidaar." (India is not foolish, everyone knows that you are the one and only suit and boot chowkidaar).
Following PM Modi's campaign #MainBhiChowkidar, Congress party came up with another hashtag 'ChowkidarChorHai' along with a picture where PM Modi is seen replying to twitter handles of fugitive diamond trader Nirav Modi and Industrialist Anil Ambani.
Also Read: Web Series On Life Of PM Modi Titled 'Modi' To Be Out Soon