India becoming hub of electronics and auto manufacturing, says PM Modi to Indian community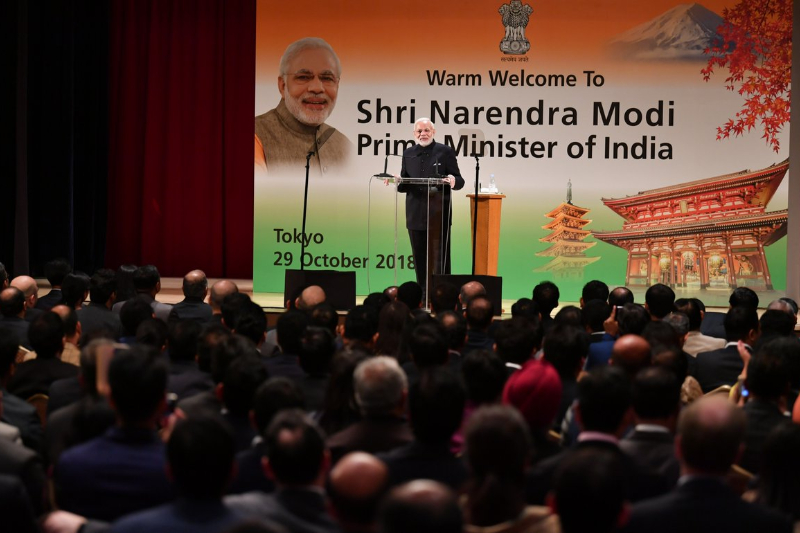 Hours after Korean NGOs staged a massive protest against awarding 2018 Seoul Peace Prize to Prime Minister Narendra Modi, the Premier addressed Indian community in Tokyo, Japan. He highlighted the deep cultural ties between both the nations.
Firstly, Prime Minister Narendra Modi congratulated the Indian community in Japan for taking 'brand India' to new heights by introducing cricket, Indian food and culture to the island nation, which has long worked with India in several sectors such as infrastructure, auto and technology.
He further asserted that India is going through a massive transformative phase today. He said that the world is appreciating India for its efforts for services towards humanity. "The policies being made in India, the work being done towards public welfare, for these the nation is being felicitated today," he added.
The Prime Minister also noted that today India is making tremendous progress in the field of digital infrastructure. "Broadband connectivity is reaching villages, over 100 Cr mobile phones are active in India, 1 GB is cheaper than a small bottle of cold drink," he said.
He said, "This data is becoming the tool for service delivery," adding that 'Make in India' has emerged as global brand today. "India is becoming a global hub, especially in field of electronics and automobile manufacturing," PM Modi added. "We're rapidly moving towards being number one in mobile phones manufacturing," he quoted.
Lauding India's achievement in space science, PM Modi said, "Last year our scientists created a record by launching over 100 satellites into space simultaneously." "We sent Chandrayaan and Mangalyaan at a very low expense," adding that India is preparing to send Gaganyaan into space by 2022.
"It'll be Indian in all ways and ones traveling in it, will also be an Indian," he asserted. "We celebrate Sardar Patel's birth anniversary every year, but this time we will grab the attention of the entire world. In Gujarat, which is also Sardar Patel's birthplace, we are building the tallest statue (his) in the world," PM Modi added.
The PM, in the end, said that just like Buddha and Bose connected India and Japan, the Indian community in Japan were strengthening the ties between both the countries.
Notably, PM Modi will now attend the 13th India-Japan annual summit, where the two nations are expected to deepen their strategic ties and build synergy across various fields.
PM Modi, yesterday, spent eight hours at the scenic Yamanashi at his Japanese counterpart Shinzo Abe's holiday home, before taking the express train to Tokyo. The two Prime Ministers held informal talks over lunch and a private dinner and also visited Japan's largest facility for building industrial robots.
Also Read: Korean activists protest PM Narendra Modi's Seoul Peace Prize award win