PM Modi insulted the people of nation, says Rahul Gandhi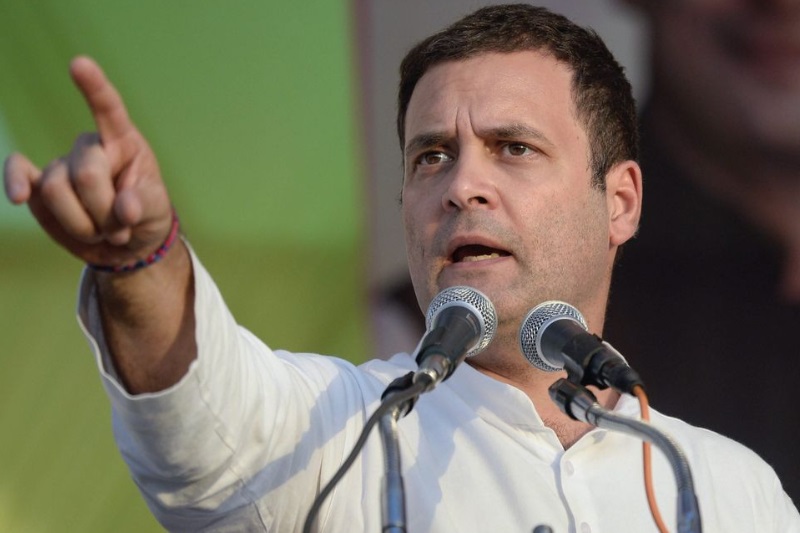 In a rally in Rajasthan's Pokhran, Congress president Rahul Gandhi launched fresh attack on Prime Minister Narendra Modi for the latter's remark that India made little or no progress during the Congress rule. He said it was an insult to the people who built the nation.
"Modiji says India was a sleeping giant before he became Prime Minister. This is an insult to all the Indians who have built this nation," Rahul Gandhi said during an election rally at Rajasthan's Pokhran.
"Modi used to say 'don't make me Prime Minister, make me country's chowkidar'. Before becoming the Prime Minister he used to talk about jobs, just price for farmers… But the moment he became Prime Minister, he forgot all that," Rahul Gandhi said.
Raking up the Vijay Mallya issue, he once again cornered the government saying Finance Minister Arun Jaitley is behind Mallya's absconding. "He told you that this (demonetisation) was a fight against black money… What happened was that his elite friends turned black money worth billions into white. Mere months later, Nirav Modi ran away defaulting on Rs. 35,000 crore. One man alone devoured a year's budget for MGNREGA (Mahatma Gandhi National Rural Employment Guarantee Act)," Gandhi said.
"Before fleeing the country, Mallya meets Jaitley and Jaitley lets him flee. This is Modi's 'fight against black money'," Congress president added.
Meanwhile, Rahul Gandhi unleashed a veiled threat saying those who are conspiring to destroy the constitution won't be allowed to do so by his party. Rahul Gandhi said this on the Constitution Day on Monday.
The Gandhi scion wrote on Twitter: The colours of Constitution is "engrained in every part of us". "The Constitution of India is the hallmark of both our struggle and existence. It is our philosophy. It is our pride… Let those who conspire to annihilate it, know that neither do they have the capacity to do so, nor will the Congress party and I ever allow them to do so," Rahul Gandhi said.
Congress has been accusing BJP of "destroying" the constitution for quite some time and the ruling party has trashed these allegations by levelling different charges against the opposition.
Constitution Day, which is also known as Samvidhan Divas, is celebrated on November 26 to commemorate the adoption of the constitution by the constituent Assembly on November 26, 1949. However it came into effect a year later.
ALSO READ: Rajasthan Assembly elections: Rahul Gandhi's loan waiver the main catch