PM Modi says Kumbh Mela should be kept symbolic amid COVID crisis
Prime Minister Narendra Modi said that the ongoing Kumbh Mela in Uttarakhand's Haridwar must be now kept "symbolic."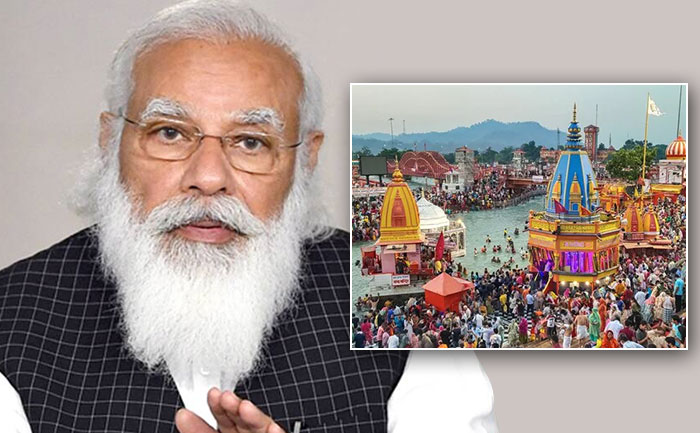 The Kumbh Mela, one of the most sacred pilgrimages in Hinduism,  is currently taking place at Haridwar, Uttarakhand. The mela sees lakhs of devotees on the banks of the Ganga every 12 years and involves many rituals, including ritual baths in the Gang.
Over the last five days, a total of 2167 people were found positive for novel coronavirus in Haridwar, the place where the month-long Kumbh is going on. On Friday, 30 sadhus also contracted the virus confirmed by the Chief Medical Officer.
On Saturday, Prime Minister of India Narendra Modi took to his Twitter handle and spoke on the ongoing Kumbh Mela in Haridwar must be now kept symbolic' amid the Coronavirus crisis. He also stated that he spoke to Swami Avdheshanand Giri over the phone.
"I have prayed that two royal baths have taken place and that the Kumbh be kept symbolic due to the Corona crisis. This will give a strength to the fight against this crisis."
"Acharya Mahamandaleshwar spoke to Pujya Swami Awadheshanand Giri ji on the phone today. Know about the health of all saints. All the saints are giving all kinds of support to the administration. I thanked the saint world for this," PM Modi wrote in Hindi.
Here's the tweet:
मैंने प्रार्थना की है कि दो शाही स्नान हो चुके हैं और अब कुंभ को कोरोना के संकट के चलते प्रतीकात्मक ही रखा जाए। इससे इस संकट से लड़ाई को एक ताकत मिलेगी। @AvdheshanandG

— Narendra Modi (@narendramodi) April 17, 2021
Avdheshanand responded to the PM's call and urged people to not come to the Kumbh Mela in large numbers. "We honor the call of Hon'ble Prime Minister! Protecting life is a great virtue. My religious religion urges the public not to come for a bath in large numbers and observe the rules, given the circumstances of the Covid!," he wrote in Hindi.
माननीय प्रधानमंत्री जी के आह्वान का हम सम्मान करते हैं ! जीवन की रक्षा महत पुण्य है।मेरा धर्म परायण जनता से आग्रह है कि कोविड की परिस्थितियों को देखते हुए भारी संख्या में स्नान के लिए न आएँ एवं नियमों का निर्वहन करें ! @narendramodi @AmitShah @TIRATHSRAWAT #KumbhMela2021 #कुम्भ https://t.co/dNjPPnDztQ

— Swami Avdheshanand (@AvdheshanandG) April 17, 2021
PM Modi's statement comes after the demise of the head of the Maha Nirvani Akhada from Madhya Pradesh, who had arrived for the Kumbh and tested positive for COVID-19.
ALSO READ: Karnataka CM Yediyurappa Tests Positive For COVID-19 Twice, Gets Hospitalized