PM Modi lays foundation stone for two Metro project lines in Mumbai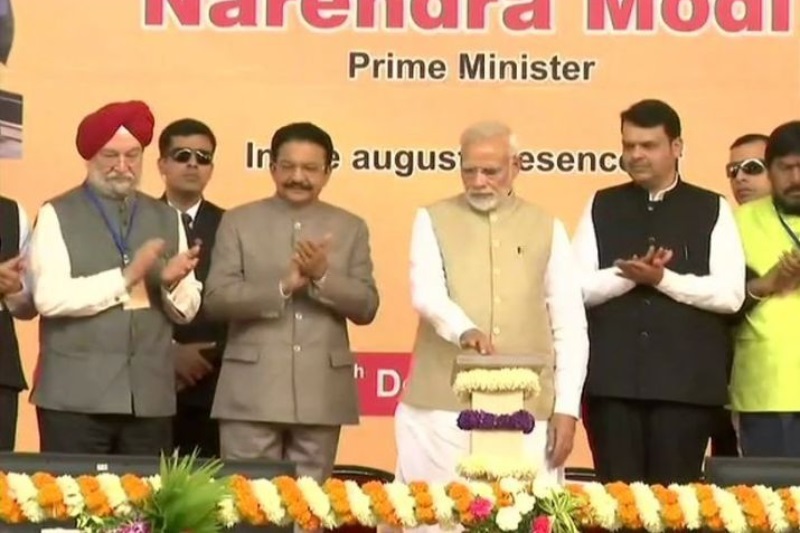 Prime Minister Narendra Modi on Tuesday laid the foundation stone for Metro 5 (Thane-Bhiwandi-Kalyan) and Metro 9 (Dahisar-Mira Bhayander). He also launched a housing scheme for 60,000 affordable homes under the Pradhan Mantri Awas Yojana (PMAY) by the City and Industrial Development Corporation of Maharashtra (Cidco) in Kalyan.
Addressing the crowd at the event, PM Modi lauded Mumbai and Thane as those parts which have "helped India realise its dreams." He further said, "People coming from small towns and villages have made a name here for themselves and made India proud. Those born here and living here are large-hearted and gave everyone a place in it."
Notably, Metro 5 and Metro 9 will give a boost to connectivity in Mumbai Metropolitan Region (MMR). The 24 km long Metro 5 line will have 17 stations with an expected ridership of 2.29 lakh passengers by 2021.
Metro 9 will provide interconnectivity between Western Express Highway, Western Railway, Metro 2A (Dahisar to DN Nagar) and Metro 7 between Andheri (E) and Dahisar (E).
PM Modi, who is on a day-long visit to Maharashtra, will later visit Pune and lay the foundation stone for the proposed third metro line between Hinejwadi and Shivajinagar. The metro project is being implemented by the Pune Metropolitan Authority (PMRDA) on a public-private partnership basis after the new metro policy.
The proposed Rs 8,313-crore 23-km long third metro line between Hinjewadi and Shivajinagar will connect busy information technology (IT) part with Shivajinagar, where the other two metro lines will also join. This project is being jointly executed by Tata Realty Infra and Siemens.
Earlier in the day, PM Modi suggested that a case study of the socio-political history of last four to five decades by way of cartoons be taken up by a university in Maharashtra. He said cartoons do not hurt but have a "healing power".
It is to be noted that PM Modi was speaking after launching a coffee table book, titled "Timeless Laxman", on the life and times of renowned cartoonist late R K Laxman, who was known for his iconic caricature of 'The Common Man'.
Also Read: Surging India represent spirit of 130 crore Indians, says PM Modi