Surging India represent spirit of 130 crore Indians, says PM Modi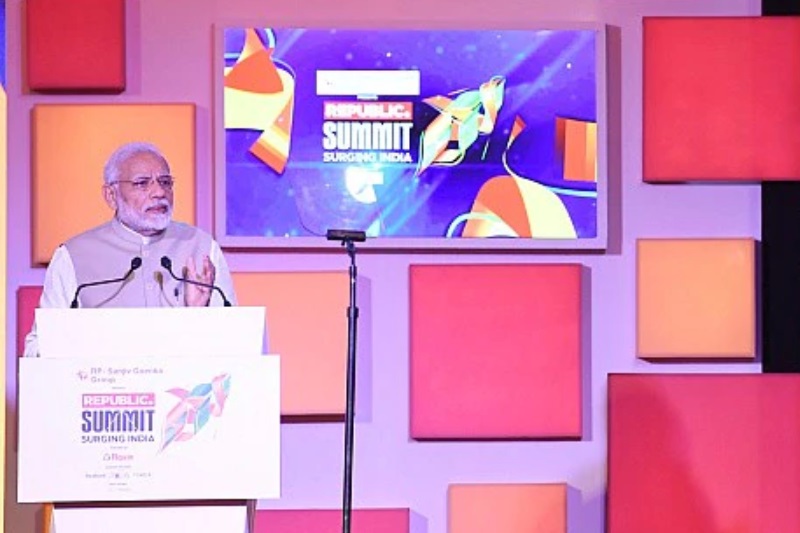 Addressing the Republic TV Summit in Mumbai on Tuesday, Prime Minister Narendra Modi said that the words "Surging India" represent the spirit of 130 crore Indians.
On the occasion, PM Modi firstly condoled the loss of lives in the ESIC Hospital fire incident in Mumbai yesterday. He emphasized the importance of positive news for a vibrant and prosperous nation. He said that India needs to scale great heights in multiple spheres such as science, innovation, and sports etc. In the same vein, PM Modi mentioned media as well.
The Prime Minister further said that a few years ago, it was difficult to imagine India surging towards becoming a five trillion dollar economy, and rising up the ranks in the ease of doing business. He also gave examples to illustrate how, today, those involved in criminal activities are being apprehended and brought to justice. PM Modi further gave examples from sanitation to tax base, to show the transformation over four years.
The PM stated that the Union Government is moving forward through Policy Driven Governance and Predictable Transparent Policies. He referred to the rapid pace of infrastructure development. The PM further referred to the monthly PRAGATI meetings which he chairs to review progress of projects. He also asserted that projects worth 12 lakh crore rupees have been speeded up in this way.
The Prime Minister also emphasized that laws and Acts have to be followed up by action. In this context, he mentioned the Insolvency and Bankruptcy Code. PM Modi said that national interest now guides India's foreign policy. "And India's voice is being heard in international fora," he noted.
In the end, PM Modi indicated that the 28% slab of GST would soon, only be restricted to a few select items, such as luxury goods. "The effort will be to ensure that 99% of all items, including almost all items used by the common man, would be kept at a GST slab of 18% or less," he concluded.
Also Read: Won't let PM Modi sleep until he waives farmers' loan: Rahul Gandhi