PM Modi presented with United Nation's 'Champions of the Earth' Award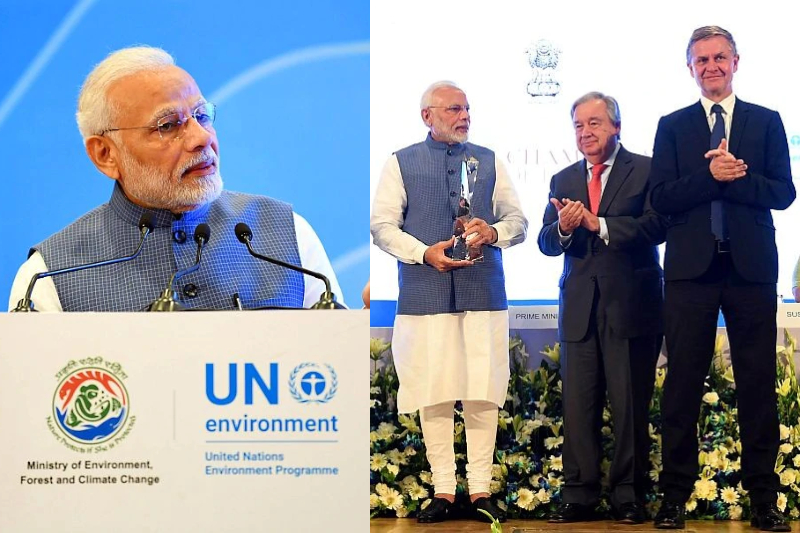 Prime Minister Narendra Modi was presented the United Nation's Champions of the Earth Award by the UN Secretary-General Antonio Guterres in New Delhi on Tuesday. The award is UN's highest environmental honour.
Modi along with French President Emmanuel Macron was jointly given the award for their champion work in the betterment of Environmental cooperation in their respective countries.
Speaking at the event, Prime Minister Modi said, "It is an honour for Indians. Indians are committed to saving the environment." He further said that climate and calamity are directly related to culture. "If is not the focus of culture, calamity cannot be prevented," he added.
PM Modi also asserted that when he talks about 'Sabka Saath Sabka Vikas' he also include nature in it. "India of today is one of the leading nations in the world when it comes to high-paced urbanization. In order to match this speed, we are constantly working towards a smart & sustainable system," the Prime Minister concluded.
Launched in the year 2005, Champions of the Earth award is the UN's highest environmental honour. It celebrates outstanding figures from the public and private sectors and from civil society whose actions have had a transformative positive impact on the environment.
Notably, the UN Secretary-General Antonio Guterres accompanied by a 6 member delegation are on a visit to India from October 1-4 at the invitation of External Affairs Minister. He participated in the Mahatma Gandhi International Sanitation Convention held at Rashtrapati Bhawan Cultural Centre, New Delhi on October 2.
Also Read: Antonio Guterres urges India to support Bangladesh on Rohingya crisis