PM Modi's swearing-in ceremony: Mamata Banerjee, Chandrababu Naidu, Naveen Patnaik are giving it a miss
The swearing-in ceremony of PM Modi will take place at 7 pm today.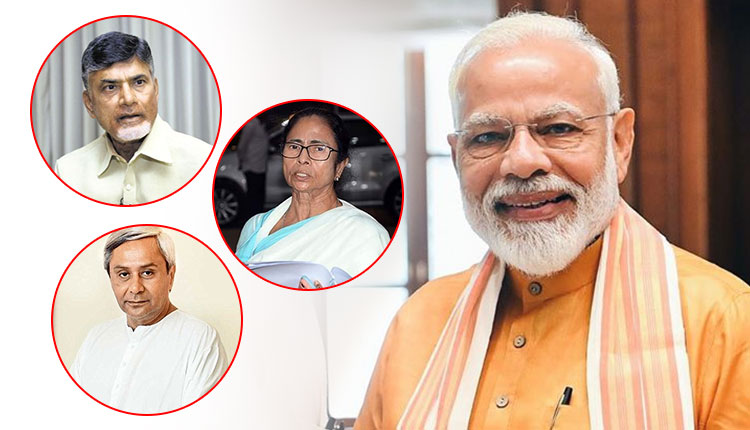 PM Narendra Modi will today take oath as the prime minister yet again for five years along with his new council of ministers at 7 pm at Rashtrapati Bhavan, New Delhi. Before that, the MPs who are selected for the respective ministerial posts will meet Modi at his residence at 4.30 pm. Around 8000 guests from across the world are invited for the swearing-in ceremony. International leaders, Bollywood and South celebs, and opposition leaders and party members are invited for the mega-swearing-in event.
Among the guests who will be attending the ceremony is Congress President Rahul Gandhi who has given his confirmation. UPA chairperson, Sonia Gandhi, Delhi Chief Minister, Arvind Kejriwal, Jagan Mohan Reddy who has taken oath as Andhra Pradesh CM today, MNM chief Kamal Haasan will also grace the ceremony.
West Bengal CM, Mamata Banerjee has changed her mind and she won't be attending it. Former Chief Minister of Andhra Pradesh, Chandrababu Naidu is also giving the event a miss. Naveen Patnaik, Odisha CM is also skipping it, Bhupesh Baghel, Chhattisgarh CM and Pinarayi Vijayan, Kerala CM will also be not attending the oath-taking ceremony. Sri Lankan President Maithripala Sirisena had already reached Delhi.
Bollywood brigade is also expected to attend the swearing-in ceremony and names that include in the list are Kangana Ranaut, Anil Kapoor, Akshay Kumar, Anupam Kher and Karan Johar among others.
Also, superstar Rajinikanth will be present to witness the event.
For more updates on this, stay tuned to our space.
Also Read: International Leaders To Attend Prime Ministerial Swear-In Ceremony Today