PM Narendra Modi casts vote after seeking blessings from his mother
Narendra Modi casts his vote in Gujarat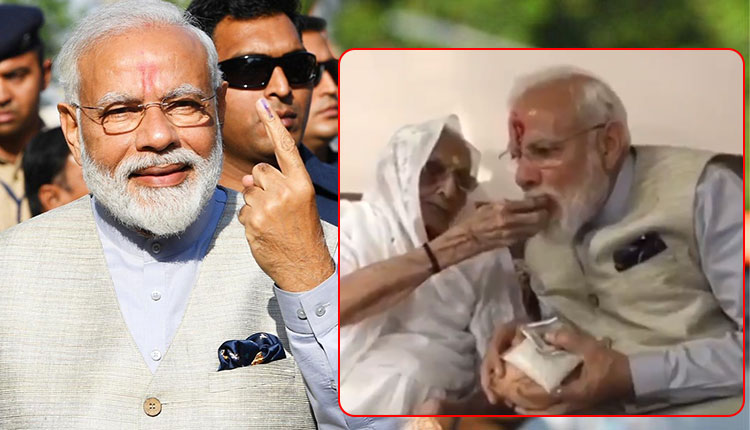 PM Narendra Modi took blessings from his mother Heeraben Modi before casting his vote in Ahmedabad today. He was seen with folded hands and touched his mother's feet to seek blessings. He then sat beside his mom and both were seen feeding each other with sweets. Heeraben also gave a shawl to her son and blessed him for the victory in the Lok Sabha Elections 2019.
After visiting his mother, Modi interacted with the residents of his society and also took selfies with the kids of his locality. He also asked the locals to cast their votes to strengthen democracy. Post this, he went to cast his vote at Nishan High School in Ranip.
Here's the video of Modi with his mother.
#WATCH PM Narendra Modi meets his mother Heeraben Modi at her residence in Gandhinagar and takes her blessings. #Gujarat pic.twitter.com/uRGsGX0fcw

— ANI (@ANI) April 23, 2019
Today, he also took to his Twitter handle to urge the citizens of India to cast their votes. Here's his tweet.
Urging all those voting in today's Third Phase of the 2019 Lok Sabha elections to do so in record numbers. Your vote is precious and will shape the direction our nation takes in the years to come.

I'll be voting in Ahmedabad in a short while from now.

— Chowkidar Narendra Modi (@narendramodi) April 23, 2019
The 98-year-old mother of Narendra Modi also went to cast her valuable vote at a polling booth in the capital city of Gujarat. She was accompanied by her son Pankaj Modi and other family members.
For more elections updates, keep following our space.
Also Read: Rahul Gandhi To Contest From Kerala's Wayanad Seat Besides Amethi