Historic Meet: Pope Francis Meets Iraq's Grand Ayatollah Ali Sistani
Pope Francis holds historic meeting with Iraq's top Shi'ite cleric Grand Ayatollah Ali Sistani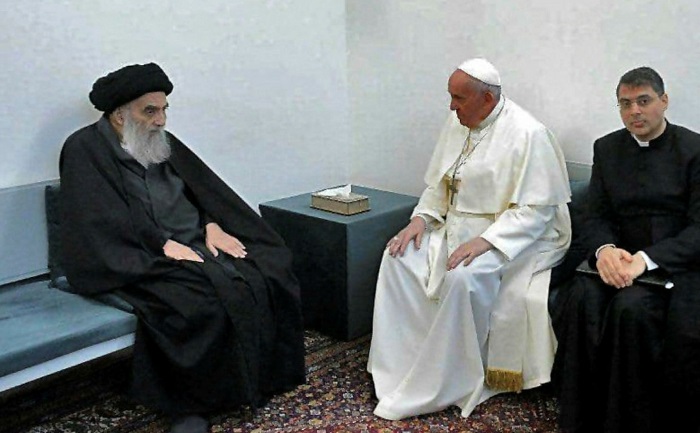 Pope Francis the religious head of Christianity held a historic meet with Iraq's top Shi'ite cleric Grand Ayatollah Ali al-Sistani. The duo met during Pope Francis' visit to Iraq, his first visit overseas since the coronavirus outbreak. The historic meeting took place in the holy city of Najaf. This is the first time that a Pope has met a senior Shi'ite cleric.
The meeting between the 84-year-old pope and the 90-year-old ayatollah is a profound statement. It is a powerful appeal for coexistence in a land torn by sectarianism and violence. Both Francis and Sistani have consistently condemned violence committed in the name of religion.
After a 55 minute with Sistani, Pope Francis headed to the ruins of ancient Ur in southern Iraq. The place is revered as the birthplace of Abraham, father of Judaism, Christianity and Islam. He will soon fly to Baghdad and is expected to deliver mass at the Chaldean Cathedral of Saint Joseph.
Sistani is one of the most important figures in Shi'ite Islam. He wields enormous influence over politics. His edicts sent Iraqis to free polls for the first time in 2005. Also toppled an Iraqi government under pressure from mass demonstrations in 2019.
The 90-year-old cleric rarely takes meetings but agreed to meet the Pope on condition that no Iraqi officials would be present.
Pope Francis flew into Iraq amid the tightest security, the country has deployed thousands of security personnel to protect him during his tour in Iraq. The meeting between the two religious leaders has sent a ray of hope and peace.
Also Read: Cardinal George Pell To Spend Six Year In Jail For Child Sexual Abuse in Australia