Post Malone falls off stage at New Year' Eve show in Times Square
Post Malone ended 2019 in the arms of his excited fans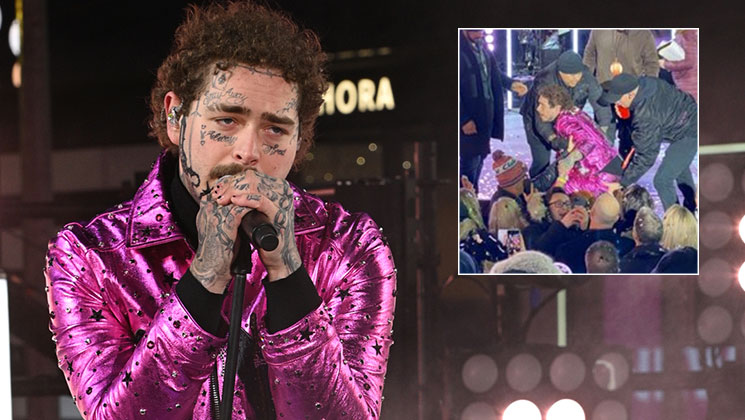 The popular Post Malone fell off stage at New Year's eve show in Times Square. The 24 year old rapper had headlined Dick Clark's New Year's Rockin' Eve along with Ryan Seacrest 2020 at the Times Square in New York City. It was at one moment when all of a sudden he was snapped taking a tumble and falling right into the arms of the audience.
Apparently, the fall was something that didn't seem to affect Malone's mood at all. In fact, he was seen smiling while being helped back up onto the stage. Rather the rapper resumed to perform without a glitch and the crowds cheered them on happily.
Moreover, the 'Circles' singer was dressed in a head-to-toe pink metallic suit and he kind of made sure that the fall did not affect his performance at all. Besides the fall, Post Malone had also made news for a group hug that involved the popular BTS.
In addition to this, the BTS Army was on cloud nine when the Bangtan Boys included Post Malone in a group hug right when the clock struck 12. It was then that fans couldn't help but share the footage on the social media handle which eventually made it go viral.
"BTS WERE HAVING A GROUP HUG AND SAW POST MALONE BY HIMSELF SO THEY PULLED HIM IN GOODBYE." one fan explained in it.
Talking about the BTS performance, the K-pop group owned the Times Square with their epic performance. Check out the Post Malone's fall as well as the BTS Army' tweets below.
BTS WERE HAVING A GROUP HUG AND SAW POST MALONE BY HIMSELF SO THEY PULLED HIM IN GOODBYE pic.twitter.com/WFEJ4BsEGT

— e. (@solovmn) January 1, 2020
POST MALONE WAS LIKE I WANT IN ON THE GROUP HUG pic.twitter.com/Z22yaHtqDe

— bts saved new years (@ky134340) January 1, 2020
Also Read: BTS Celebrates New Year 2020 In Times Square: Fans Definitely Loved It, Here's Proof