Prince William, Harry unveil Diana's statue at Kensington Palace, See PHOTOS
On July 1st, Prince William and Prince Harry unveiled Lady Diana's statue at Kensington Palace on her 60th birth anniversary.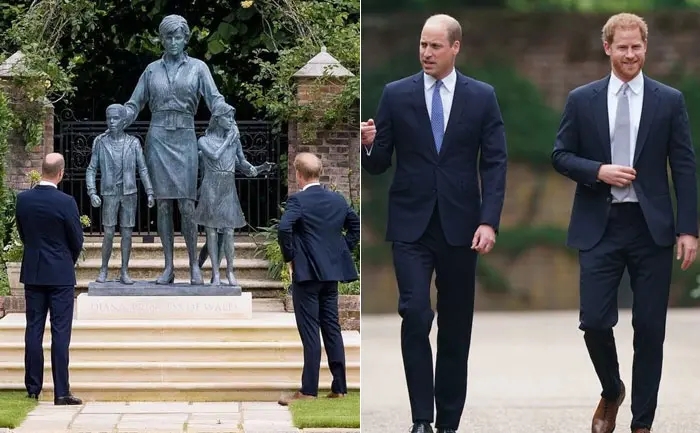 The Duke of Cambridge Prince William and Duke of Sussex Prince Harry unveiled their late mother Lady Diana, Princess Of Wales's statue at the Sunken Garden of Kensington Palace in London on her 60th birth anniversary. The brothers reunited publicly for the first time since their grandfather Prince Philip, Duke of Edinburgh's funeral in April.
Princess Diana lived in the palace while she was married to Prince Charles, and the Sunken Garden was believed to be one of her favorite places on the grounds.
The statue of Lady Diana featured three children, honoring her work with kids around the world, and a poem from her 2007 memorial service. According to Kensington Palace, "The statue aims to reflect the warmth, elegance and energy of Diana, Princess of Wales, in addition to her work and the impact she had on so many people."
Check out the photos:
View this post on Instagram
View this post on Instagram
View this post on Instagram
Harry and William released a statement together and said: "Today, on what would have been our Mother's 60th birthday, we remember her love, strength and character–qualities that made her a force for good around the world, changing countless lives for the better. Every day, we wish she were still with us, and our hope is that this statue will be seen forever as a symbol of her life and her legacy. Thank you to Ian Rank-Broadley, Pip Morrison and their teams for their outstanding work, to the friends and donors who helped make this happen, and to all those around the world who keep our mother's memory alive."
In addition to Harry and William, Diana's siblings: Earl Spencer, Lady Sarah McCorquodale, and Lady Jane Fellowes were also joined and in addition to the Statue Committee and Chair of Historic Royal Palaces, Rupert Gavin. The statue's sculptor, Ian Rank-Broadley and garden designer, Pip Morrison also joined.
ALSO READ: Prince William, Harry Reunite To Unveil Princess Diana's Statue At Kensington Palace