Priyanka Chopra Kisses Nick Jonas During Live Performance At Billboard Music Awards 2019- Watch Videos
Billboard Music Awards 2019: Bollywood actress Priyanka Chopra kisses husband Nick Jonas in the middle of his music live performance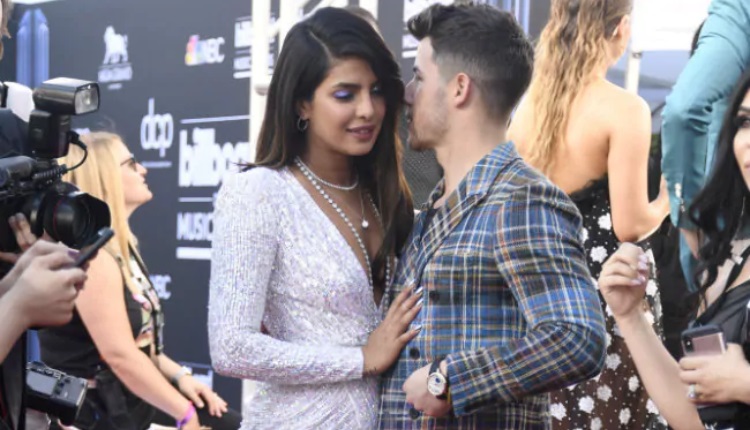 One of the biggest night in International Music, Billboard Music Awards 2019 was attended by Global stars including Taylor Swift, Khalid, Nick Jonas, Priyanka Chopra, Sophie Turner, BTS, Halsey and several others. The live streaming of Billboard Music Awards have just concluded and fans are sharing videos and pictures from the music event on social media. In one of the videos, Bollywood diva Priyanka Chopra is seen kissing her hubby Nick Jonas in the middle of his live performance.
Jonas Brothers were seen performing live for the first time at Billboard Music Award this year. When Nick Jonas and his brothers were performing on 'Cake By The Ocean', Priyanka Chopra reached over and lip locked him. It is the kind of moment we rarely get to see during the live performance. Iconic BTS Moment You Did Not Notice During Billboard Music Awards 2019 – Watch
Priyanka Chopra Kisss Nick Jonas At Billboard Music Award 2019 – Watch videos
Priyanka Chopra kissing Nick Jonas during his #BillboardMusicAwards performance is the cutest. pic.twitter.com/sRi8DgRXc1

— Alyssa Bailey (@alyssabailey) May 2, 2019
Apart from Priyanka Chopra, Danielle Jonas, and Sophie Turner were also seen at the Billboard Music Awards to support their significant others.
THIS WAS SO CUTE. #BBMAs pic.twitter.com/ucnyonvbJl

— jonas news. (@JonasConcerts) May 2, 2019
It is to be noted that this is not the first time when NickYanka professed their love for each other during the live performance. Earlier, while performing in Atlanta, American singer had said PeeCee I Love You in sign language as the letter cheered for him.
Watch- Jonas Brothers Live performance at Billboard Music Awards 2019
The @JonasBrothers are BACK and they just delivered an explosive #BBMAs performance ? pic.twitter.com/4sKXHiDcMK

— billboard (@billboard) May 2, 2019
Priyanka and Nick are headed to the Met Gala next Monday. They are co-chairs for the event. Whether or not Kevin, Danielle, Sophie, and Joe will join them in New York for at triple date remains to be seen. But it's highly likely.
Nick spoke to Entertainment Tonight this past weekend about what he was planning to wear to the event—and how he was going to let Priyanka take the sartorial spotlight.He said,  "It's coming together," he said of his outfit. "To be honest, I'm very excited, I love the Met Gala, it's always a fun night, but Priyanka will set the tone, and I'm just going to be there to support her. So I plan to keep it simple and let her shine."
Also Read: Billboard Music Awards 2019: Complete Winners List