Priyanka Chopra slammed for fireworks at her wedding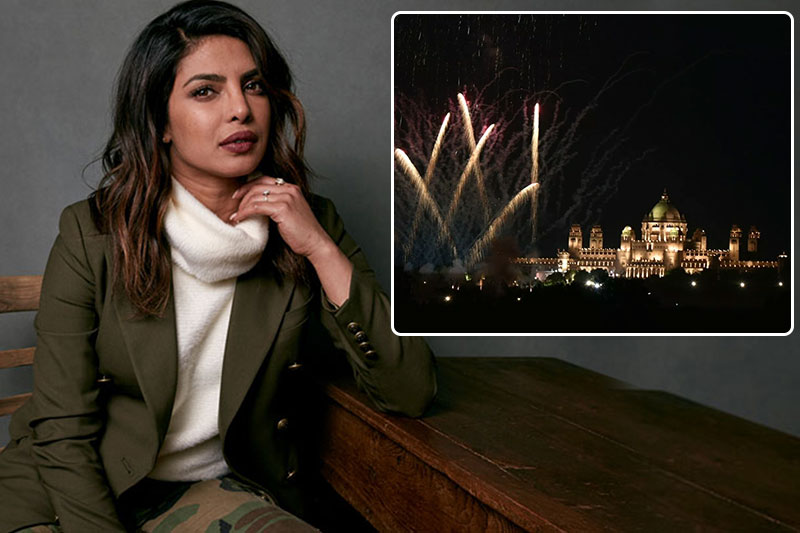 Bollywood's Desi Girl Priyanka Chopra has tied the knot with her beau Nick Jonas as per Christian tradition at Umaid Bhavan Palace in Jodhpur on December 1, 2018. Soon after the much in love couple exchanged vows, the sky was lit up with spectacular fireworks in the evening.
Check out the video here:
This video went viral on social media, and was not appreciated by many who soon took to the social media to troll the 'Qauntico' star. The reason being that on Diwali, the actress had urged people to not burn crackers and contribute in making the planet pollution free.
Check out what the netizens have to say on Twitter after watching Priyanka Chopra and Nick Jonas' wedding firecrackers.
This is the height of hypocrisy that these so called liberals and celebs put forth that defeats the entire purpose. #PriyankaChopra #PriyankaNickWedding #PriyankaKiShaadi #PriyankaNick https://t.co/1cJ06rr5BY

— Sanskari Bhediya (@pkg_lonewolf) December 2, 2018
Hi @ibreathefree does the firecrackers used in @priyankachopra and @nickjonas wedding are environment friendly ? Waiting for your reply as my kid asli want to have save environment friendly cracker's. #PriyankaKiShaadi #PriyankaWedsNick

— Rahul Gandhi Chaparasi (@MumbaiLonday) December 2, 2018
Awesome fireworks display during your wedding! What happened to your message NOT to do fireworks during Diwali? Smell some hypocrisy? 🤔 @priyankachopra @nickjonas #PriyankaKiShaadi #PriyankaChopra #PriyankaNickWedding

— Amit C (@imAmitC) December 2, 2018
Priyanka Chopra is asthmatic and animal caring during Diwali, she wears masks in US to show pollution problems, but on her wedding, she wants us to inhale sulphates and monoxides for hours. She can afford to do it because she is a self dependent woman. Don't troll her Hindu Males

— Karl Maarx (@Karl_Maarx) December 2, 2018
@priyankachopra pic.twitter.com/pMkKDHiqNW

— #ChappalChorPakistan (@SupariTroller) December 1, 2018
Bursting Crackers In Diwali Makes Priyanka Chopra Breathless, Bursting Crackers In Wedding Gives Her Fresh Air By Releasing Oxygen. 👏🙏 pic.twitter.com/02aqtcQpkT

— Sir Jadeja (@SirJadeja) December 2, 2018
#PriyankaChopra If you want to give out a message to your fans to not burst crackers on Diwali bec it affects the environment, animals, asthma patients then the same rules apply to your wedding. It's important to practice what you preach! https://t.co/T3ZWph66pY

— Rohit Khilnani (@rohitkhilnani) December 2, 2018
Non polluting fireworks with Smog,Sulfur dioxide ,horrible chemicals which kissed environment in noiseless wedding ceremony of Queen Priyanka Chopra #PriyankaKiShaadi #ArrestPriyankaChopra https://t.co/y0Gs6hz8ya

— srinivas kelur (@srinikelur) December 2, 2018
Meanwhile, Priyanka took to Instagram to share stunning pictures from her Mehendi and Sangeet ceremony.
As per several reports, Priyanka Chopra and Nick Jonas will host two wedding receptions in Delhi and Mumbai respectively.
Also Read: Priyanka Chopra got injured before her mehendi ceremony; find out what happened next