Priyanka Chopra takes Nick Jonas's surname on social media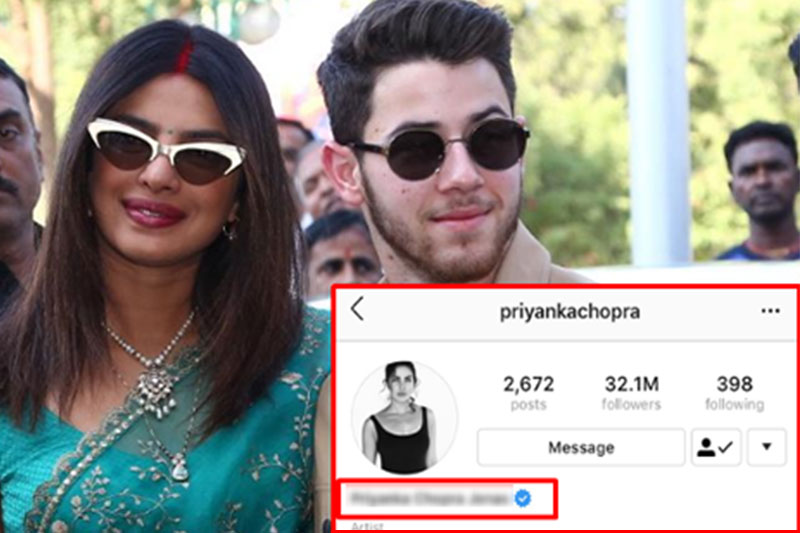 Priyanka Chopra, who is recently got married to an American singer and months old boyfriend, Nick Jonas on December 1 has changed her name on social media. The actress chose her beloved country to exchange vows as per Christian and Hindu rituals.
Less than a week after getting married, Priyanka Chopra has changed her Instagram page name from Priyanka Chopra to Priyanka Chopra Jonas.
You can check out a snapshot of her Instagram handle below:

After tying the knot with American singer, Chopra has taken her husband's surname Jonas and will now prefer being called Priyanka Chopra Jonas. There were speculations whether she will take her hubby's surname or not.
Putting speculation to rest, Priyanka has embraced Jonas surname on Instagram. However, her Twitter account still reads Priyanka Chopra. Perhaps, she will change soon.
There are several videos from Priyanka and Nick's wedding have been doing the rounds on social media. In one video, Nick and Priyanka are seen dancing and kissing each other, after their wedding. In another video, Nick gets teary-eyed as Priyanka walks down the wedding aisle.
Speaking about the wedding, Nick revealed in a magazine, "The emotions were running high during the ceremonies, I think especially during the Western wedding for me."
"You know you think your whole life about that moment. Honestly, I could not have imagined it would be as perfect as it was. It was highly emotional," he adds.
After marriage, the actress in an interview to NDTV, spoke about how she handles her ambition and love. She said that she shuts out the clutter and only focuses on what makes her and her loved ones happy.
Also read: Nickyanka Wedding: Names of the groom and bride's parents were sewn into the lehenga