Priyanka Chopra and Nick Jonas warm up in Paris before Sophie Turner and Joe Jonas' wedding
Priyanka and Nick threw a boat party in Paris before formal destination wedding of Joe Jonas and Sophie Turner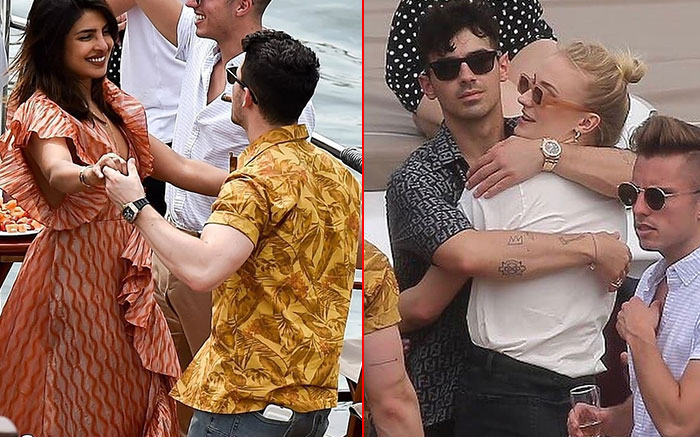 Nick Jonas uploaded a picture on his Instagram with the Caption "The City of Love", where they both were seen sitting cozily on a boat and relaxing before the formal wedding of Joe Jonas and the Game of Thrones star Sophie Turner, who had secretly tied the knot in Las Vegas but now are having a more formal destination wedding in Paris. They were in New York a few weeks ago but now have flown to Paris.
During all the rigmarole of the wedding, they were seen stealing a quite moment amongst all on a boat party in Paris, even Sophie and Joe and many other guests were seen having a good time. Priyanka commented with a smiley and a kiss on her Husband's Instagram Post. Many other celebs commented on his post, like singer songwriter Derik Fein commented "You guys make an amazing couple."
Priyanka recently shared a selfie of her and Sophie Turner with the caption "Her @sophiet" where Sophie commented with an "I love youuuuuu," and many fans did not fail to drop hilarious comments like "Devrani Jethani ka pyaar. Hara bhara Ghar pariwar. jeete rho meri bacchiyoo" which gained 2500 likes by the fans on Instagram.
The Jonas Brothers released their first bilingual song 'Runaway' on 20th of June. Priyanka on the other hand is going to collaborate with Mindy Kaling as a producer in an untitled Wedding Comedy where Dan Goor will be a co-producer.
Also Read: Priyanka Chopra twins in with sister-in-law Sophie Turner; posts adorable pic