Sony PlayStation 5: Launch Event, Date, Price, Specs and Controller Details
Everything you need to know about PS5: PlayStation 5 Name, Specs, Price, Release Window, Games, Backwards Compatibility, and Controller Details.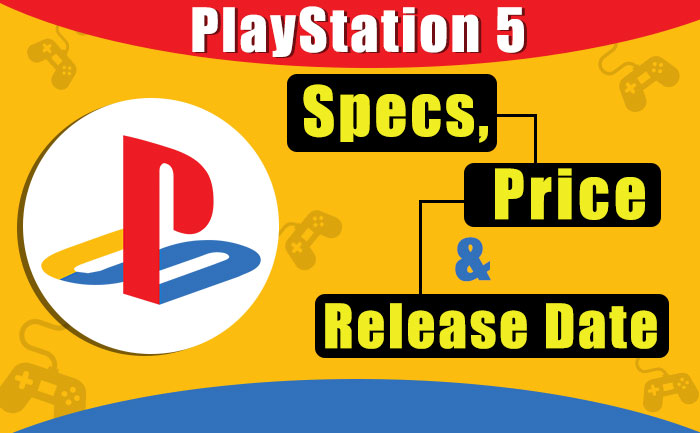 PlayStation 5 Name, Specs, Price & Release Date: After PS4, Sony has officially announced to launch PS5 in the market and named it PlayStation 5. There are several reports doing the rounds about PlayStation 5 price, release date specification and comparison with PS4. In this article, we have added all those details helping you to understand and buy PS5. Best PS5 Confirmed Games
If anything to go by the reports, PlayStation 5 is scheduled to launch in 2020 and will have PS4 backwards compatibility and SSD storage. As per a report in Wired, Sony has not only updated new PlayStation in terms of graphics but on many aspects of a console too.
The company has reduced loading times in new PlayStation and it will handle games installation in a very unique way. Instead of installing the whole game, users will have to install just a game's multiplayer or single-player campaign. The following article has everything about PlayStation 5 such as price, release date, specification and comparison with PS4.
PlayStation 5: Specs, Price, Release Window, Games, Backwards Compatibility And More About PS5
The announcement of PS5 came in April this year showing that it will be seen as a huge revolution in the gaming industry. Yes, PS5 will boost a game faster than ever before. Instead of using 'rumble' technology, Sony, in one of its post said that controllers will use haptic feedback for a more refined vibration when playing a game. The company has added new speakers in the controller as well as a USB-C port.
Speaking about PS5 features, Ryan said, "One of our goals with the next generation is to deepen the feeling of immersion when you play games, and we had the opportunity with our new controller to reimagine how the sense of touch can add to that immersion."
There are two key innovations added in PlayStations 5 new controller. Yes, Sony seems to have adopted haptic feedback to replace the rumble technology found in controllers since the 5th generation of consoles.
While the second innovation is adaptive triggers, which have been incorporated into the trigger buttons (L2/R2). Developers can program the resistance of the triggers so that you feel the tactile sensation of drawing a bow and arrow or accelerating an off-road vehicle through rocky terrain. In combination with the haptics, this can produce a powerful experience that better simulates various actions.
PlayStation 5 Release Date
Thousands of game lovers are searching on Google when will PS5 to be out in the market? You should know that the official release date of PlayStation 5 is has been announced. It is expected that Sony has a "holiday 2020" release window for the PlayStation 5.
Announcing the release date of PlayStation 5, the company wrote in a bog post, "I'm proud to share that our next-generation console will be called PlayStation 5, and we'll be launching in time for Holiday 2020," said Sony Interactive Entertainment present Jim Ryan.
"These updates may not be a huge surprise, but we wanted to confirm them for our PlayStation fans, as we start to reveal additional details about our vision for the next generation."
PS5 Price
There is a section of people eagerly waiting to know the price of PlayStation 5 but Sony has not yet quoted the price. The company claimed to have an impressive price for all the gamers. "I believe that we will be able to release it at an SRP [suggested retail price] that will be appealing to gamers in light of its advanced feature set," said Mark Cerny, the lead architect of the PS4 who's currently working on its successor.
Will PS5 Be Backwards Compatible With PS4 games?
Yes, Mark Cerny has confirmed that PS5 will have backwards compatible with PS4 Games as these two consoles are built on similar internal architectures. The PS5 likely to be good news for all the gamers who are disappointed with PS4's lacks of backwards compatibility feature.
Speaking about backwards compatibility feature, SIE president Jim Ryan told GameSpot, sister site CNET backwards compatibility and cross-gen are important for the PS5 to help players have a seamless transition.
"Whether it's backwards compatibility or the possibility of cross-generational play, we'll be able to transition that community to next-gen," he said."It won't be a binary choice about whether you have to be either on PlayStation 4 or next-gen to continue your friendship," he added.
Testing its speed, Cerny demonstrated a load screen from Insomniac's Spider-Man, which took less than a second on a PS5 development kit, while it took 14 seconds on a PS4 Pro. You can watch the video below:
Sony's official video comparing performance of PS4 Pro vs next-gen PlayStation pic.twitter.com/2eUROxKFLq

— Takashi Mochizuki (@mochi_wsj) May 21, 2019
PS5 Specification And Disc Drive
Talking about the specification of PS5, Sony did not leave any stone unturned to make it smarter, faster and cheaper. Yes, the company has confirmed that PlayStation 5 has an AMD chip that has a CPU based on the third-generation Ryzen. Notably, PS5 to support 8k gameplay but this will definitely be dependent on TVs catching up.
According to reports, PS5's graphic will be driven by a custom version of Radeon's Nai line and it will support ray racing. It is to be noted that ray racing has become quite famous in movies and video games. The most important thing about PS5 is that it supports 3D audio.
Owing to its extraordinary SSD feature, the game in PS5 will load way faster than we have seen in the current devices. Not only games will load faster in PS5 but characters and cameras could move faster through games worlds as well.
As per the latest report on GameSpot, PlayStation 5 would not follow the route of the Xbox One S All-Digital Edition, which means does not have a disc drive. Instead, the PS5 likely to have a disc drive, so you will be able to buy and play physical games. Notably, the drive will have a capacity of 100 GB, and the console will also support 4K Blu-Rays.
The company has confirmed that PS5 will support 4K visuals at 120Hz for those who have TVs that can support that.
Will PS5 Support PlayStation VR?
You must be wondering will this new PlayStation support PSVR? The answer is in affirmative. PlayStation 5 will 100% support PSVR and Speaking about the same,  Cerny has stated, "beyond saying that VR is very important to us and that the current PSVR headset is compatible with the new console."
The system architect yet to react whether a new PSVR device will ever come out, however.
PlayStation5 Games
There is a list of confirmed games coming to PlayStation 5 is yet to be declared. If anything to go by the rumours, Hideo Kojima's Death Stranding would come to PS5, but that game's sooner-than-expected PS4 release date has cast doubt on that particular rumor.
When asked by leading gaming website, whether Death Stranding would come to PS4, PS5, or both, Sony decided to tight lips and simply listed the game as one of many that "PlayStation fans have … to look forward to on PS4."
Besides Death Stranding, there are reports doing the rounds that game like FIFA and Call of Duty would also be available to play in PS5. There is no official announcement of the same is made as of now.
Speaking about the playable games on PlayStation 5, the Square Enix's president and CEO Yosuke Matsuda said: "I believe that our teams have made it so that the game will support both the next generation and the current generation of consoles. I believe it is being developed so that it is going to be playable on both, so I'm not really concerned about that and I believe that the fans are also going to be able to enjoy it on both, including the next-generation of consoles."
The company has neither stated PS5's exact look or its exact release date or price.