Rahul Gandhi: 'Beti Padhao, BJP se Beti ko bachao'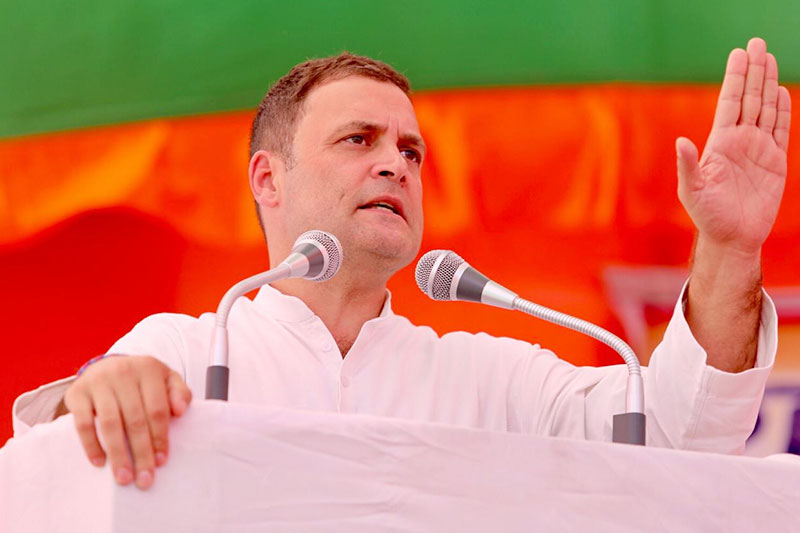 Congress president Rahul Gandhi yet again attacked Prime Minister Narendra Modi on women's security in the country. Along with it Gandhi alleged the Bharatiya Janata Party government looted the poor people's money to benefit their corporate friends.
Addressing an electoral rally in Dholpur of Rajasthan, Gandhi stated that under the current Union government, women in India are not safe. Speaking about a BJP MLA from Uttar Pradesh — Kuldeep Sengar — alleged in rape case, Gandhi accused both the UP and Union government of protecting the politician. Gandhi was of the opinion that even "Beti Bachao, Beti Padhao" has changed to "Beti Padhao, BJP se Beti ko bachao" (teach girls, protect girls from BJP) in PM Modi's tenure.
He said, "Mr. Modi gave the slogan 'Beti Bachao Beti Padhao', but in reality a BJP MLA in UP is accused of raping a woman and is protected by the party."
The Congress president accused the PM Modi of not addressing the issues of farmers and unemployed people of the country properly. Gandhi accused Modi of benefiting the corporate friends by underscoring the plight of poor people. He said, "Farmers are demanding facilities from banks but they're denied because of debt. Why can't Narendra Modi waive farm loans when he can waive loans worth  Rs 3 lakh crore of 15-20 corporates?"
Addressing the electoral rally, Gandhi expressed his concern on the migrants being forced to flee from Gujarat. He said, "Workers from Uttar Pradesh, Rajasthan and Madhya Pradesh are beaten in Gujarat." Gandhi said that they are being forced to flee the state and this shows how PM Modi thug the youth on employment. Among other issues, he took a dig at both the Narendra Modi and Vasundhara Raje government on farmers' suicide, policies for poor and letting corporate friends loot public money.
Gandhi appealed to the the people to vote for Congress this time and assured that it will be people's government. He added that the government will not speak it own "Mann Ki Baat", but address "People's Mann Ki Baat".
ALSO READ: Migrants flee Gujarat; Rahul Gandhi, Lalu Yadav blame BJP