Telangana: Rahul Gandhi, Chandrababu Naidu to share stage today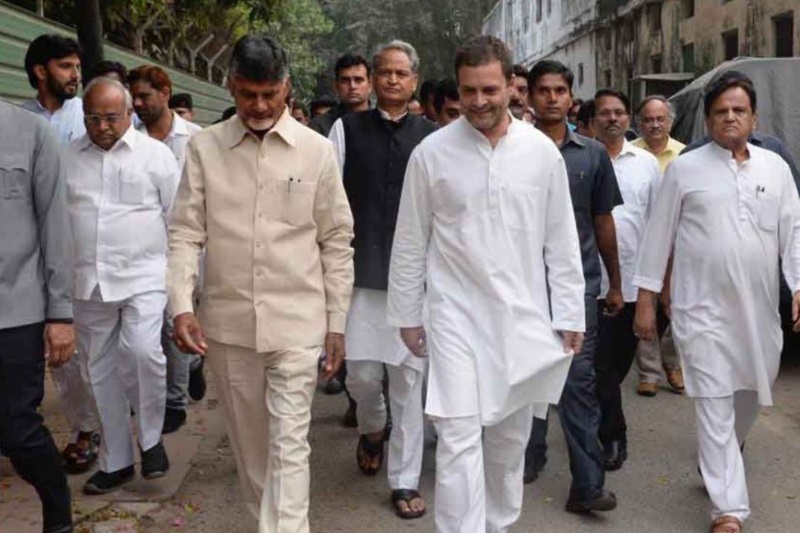 Congress chief Rahul Gandhi and Andhra Pradesh Chief Minister N Chandrababu Naidu, who formed an alliance in Telangana to take on the Telangana Rashtra Samiti (TRS) for the State Assembly elections, likely to address gathering together in the state today.
TDP spokesperson Lanka Dinakar told news agency ANI, "The public meetings and roadshows are going to create a storm in the ensuing elections in Telangana." Both the politicians will share a stage in three rallies at Khammam, Sanathnagar and Asif Nagar.
TRS Chief K Chandrasekhar Rao is currently seeking a second term as chief minister after dissolving the 119-member assembly in September. Rao's party TRS is fighting in all seats, while TDP (Telugu Desam Party) has joined hands with Congress, CPI and Telangana Jana Samiti (TJS) to form a grand alliance 'Mahakutami'.
Click here for Live updates on Madhya Pradesh assembly elections
It is to be noted that Telanaga would be the first electoral outing for the 'Mahakutami' and a stepping stone for the Lok Sabha elections. Naidu, who moved away from the National Democratic Alliance (NDA) in March this year over the Centre's refusal granting special status to Andhra Pradesh, has been gathering Team Opposition against the ruling BJP for the 2019 Lok Sabha elections.
Aggressive campaigns are being conducted by Prime Minister Narendra Modi, BJP president Amit Shah and UPA chairperson Sonia Gandhi, cabinet ministers and Opposition leaders in Telangana.
Recently, taking a jibe at KCR's promise to turn Nizamabad into London, Modi said, "While coming here I asked pilot (of the chopper) to take around to see if he has done this. I found that towns in states with a relatively weak economy are better than Nizamabad."
Responding to Modi's comment, Rao called Modi's claim that people living in Nizamabad are facing electricity problem as the biggest lie.  He also remarked that he had never seen such an "ignorant" Prime Minister.
UPA Chairperson, Sonia Gandhi who recently visited the state for the first time said, "It is an emotional moment for me, as I feel like a mother who is meeting her children after several years."
Also read: Telangana Assembly elections: PM Modi describes TRS and Congress 'two sides of the same coin'