Telangana Assembly elections: PM Modi describes TRS and Congress 'two sides of the same coin'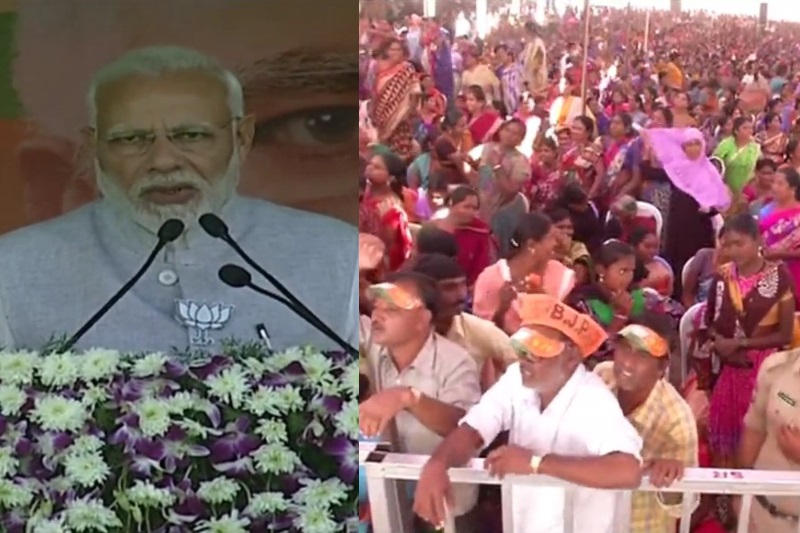 Prime Minister Narendra Modi today kick-started his campaign for Telangana Assembly elections by hitting out at both the ruling Telangana Rashtra Samithi (TRS) and the Congress.
Addressing a rally in Nizamabad, PM Modi described TRS and Congress as 'two sides of the same coin', and said that both were engaged in vote bank politics. He said, "Congress as well as TRS, both the parties believe in dynastic politics. They are two sides of same coin. Both parties appease the minority, both parties believe in vote-bank politics, none of them have internal democracy."
Speaking on the occasion, PM Modi urged the voters to teach the TRS a lesson in the upcoming elections. While pointing out how he refused to be part of the Ayushman Bharat scheme, PM Modi called Telangana Chief Minister K Chandrashekar Rao 'insecure'.
"In past 3 months, 3 lakh families took the benefit of Ayushman Bharat but none of them is from Telangana. The state government is responsible for this," PM Modi noted. He also asserted that we believe in in 'Sabka Saath, Sabka Vikas'.
The Prime Minister said, "Telangana was formed after several years of struggles and sacrifices of youth. State government doesn't have the right to destroy that sacrifice." "Telangana CM said he will turn Nizamabad into city like London but the place lacks basic facilities like water, roads and power," PM Modi added.
"There are elections in five states and wherever I have had the opportunity to visit, the enthusiasm of people is immense. I thank the people for their faith in the BJP's development agenda. Those who believe in development, building new India and new Telangana trust BJP most," PM Modi concluded.
Importantly, the Telangana Assembly elections are scheduled to be held on December 7 to elect representatives of 119 constituencies. The counting of votes will take place on December 11.
Also Read: Telangana politician Vanteru Pratap Reddy attempts suicide: Read here why