Rahul Gandhi: Vote swing upto 5 percent will lead Congress to win in MP and Chhattisgarh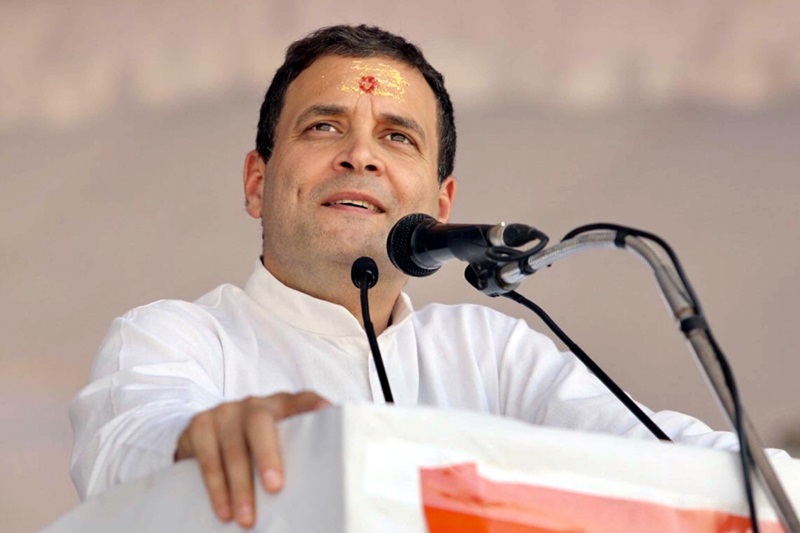 Expressing confidence that Congress will win in both Madhya Pradesh and Chhattisgarh, party president Rahul Gandhi on Tuesday asserted that 3-5% swing in votes will tilt the scale in their favour.
Interacting with reporters, Rahul Gandhi said he doesn't agree that Chhattisgarh is headed for a hung assembly. "The vote difference between Congress and BJP is less than 1% in Chhattisgarh. We are looking at a swing in favour of Congress in both Chhattisgarh and MP," he said.
Rahul Gandhi also stated that Congress is transforming its system of ticket distribution. "We are studying each seat minutely. Every party worker can give his suggestion via the Shakti app. Winnability is the only factor. Those who have lost three-four times, I may make an exception only in one or two cases. For the last 15 years, people have been telling us, 'choose the right candidates'. We will choose the rightness."
On the occasion, he also reiterated that there will be no parachuting of candidates. "I may make a few exceptions if Kamal Nath and Jyotiraditya Scindia suggest it, but that won't be the norm," the Congress president said.
On being asked why Congress is not projecting a CM candidate in MP although it did so in Punjab, Rahul said, "There are things that both Kamal Nath and Jyotiraditya Scindia bring to the table. Kamal Nath has experience, Scindia is young and dynamic. Why shouldn't I use them both? We are using the same strategy in Rajasthan." It doesn't mean there will be two CMs in MP, he clarified, adding: "The people of Madhya Pradesh will decide the CM."
The Congress president further said, "Jobs and farmer welfare are the Number 1 priority for Congress in Madhya Pradesh." On his promise of farm loan waiver, when reporters said that Madhya Pradesh is already deep in debt, he said, "Rest assured, there is money in Madhya Pradesh. It's just a matter of distributing it fairly. Big businessmen run away after stealing thousands of crores. Why shouldn't farmers get their due? All the money is with five to 10 BJP leaders. Usko nikalna hai."
In the end, the Gandhi scion said, "Congress will stop the rampant privatization of healthcare and education." "Why should people pay lakhs for this," he asked.
Notably, the Assembly polls in Madhya Pradesh will be held on November 28 and counting of votes will take place on December 11.
Also Read: BJP calls Rahul Gandhi's temple visit 'fancy dress Hinduism', asks Gotra