Mumbai Congress puts up posters of the famous Gandhi-Modi hug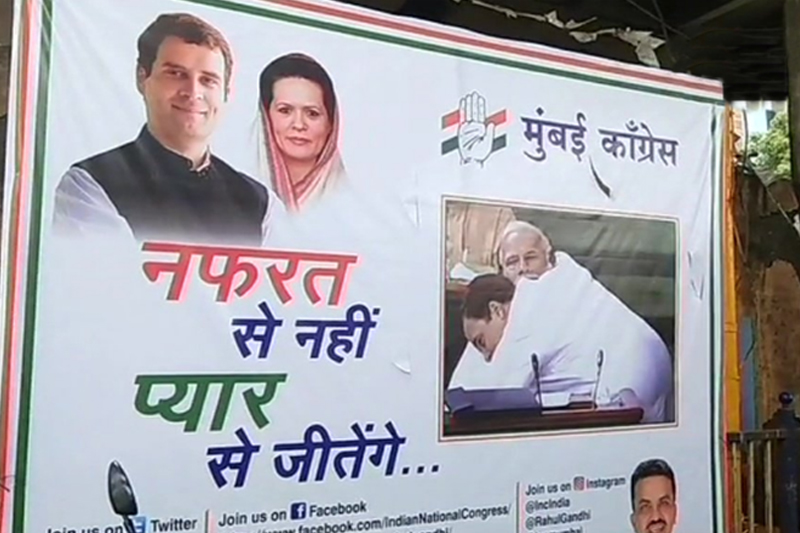 Soon after the Congress President Rahul Gandhi embraced Prime Minister Narendra Modi in the Monsoon Session of the Parliament, the Mumbai unit of the party has taken it as a modus operandi to compete with BJP. The Mumbai unit put up posters of Gandhi hugging Prime Minister in Andheri, reports ANI.
The Mumbai Congress president Sanjay Nirupam shared the poster on his Twitter handle, in which it was written, "Nafrat se nai, pyar se jeetenge (we will win through love, not hatred)." With one of the unit coming up with the latest idea to strategise their future plans, BJP is looking for their options to rethink on their strategy.
Mumbai Congress put up posters of Rahul Gandhi hugging PM Modi in Lok Sabha during #NoConfidenceMotion debate pic.twitter.com/z8cjlIyGs9

— ANI (@ANI) July 22, 2018
The idea came from the incidence when Rahul embraced Modi at the Monsoon Session of Parliament after finishing his one hour speech on 'No Confidence Motion', ending with a note – "You can call me Pappu, give me names, but I will never have hatred for you."
Though the motion was defeated due to the strength of the BJP in the Lok Sabha, Rahul was given a huge round of applause for his impeccable, flawless and action packed firey speech. The BJP is yet to come out with a strategy, but Union Minister Rajnath Singh had compared Gandhi's action to Chipko Movement in Uttarakhand.
Rahul had targeted the government on issues like corruption, mob lynchings, agrarian crisis and crony capitalism during the discussion. He also accused the government of lying about a secrecy clause in the Rafale deal with France, which  confirmed that a secrecy pact exists between the two countries.