Rajasthan Assembly Elections: Both Sachin Pilot, Ashok Gehlot to contest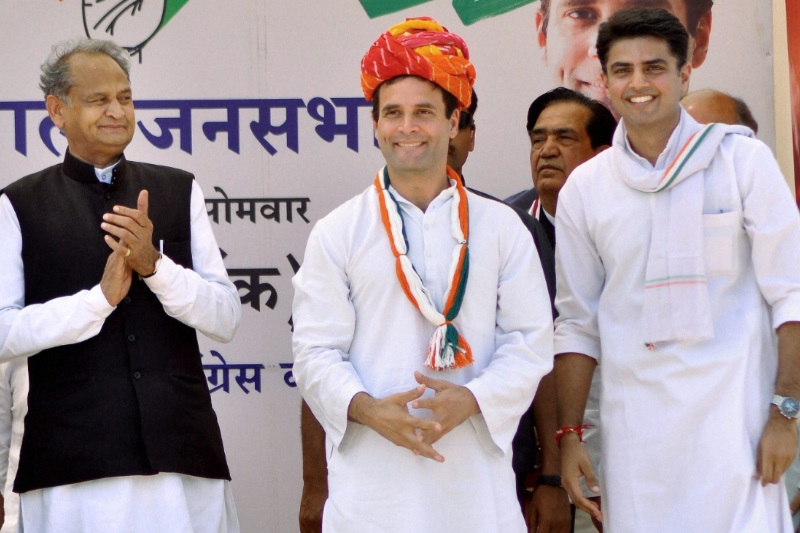 Speculations were put to rest about the rift between two Congress heavyweights in Rajasthan — Sachin Pilot and Ashok Gehlot — as both of them came together to announce that they both will fight the 2018 Rajasthan Assembly Elections. By the way, both Gehlot and Pilot are chief contenders for the Chief Minister's post in case Congress wins the elections.
"Hum bhi ladenge aur Sachin bhi ladenge," Gehlot told a press conference at Congress headquarters on Wednesday.
As far as contesting elections are concerned, Gehlot has been fighting from Jodhpur's Sardarpura constituency since 1998 while Pilot has never fought an Assembly election. According to well-informed sources, Pilot has not been keen on contesting from a single constituency. He is already a Member of Parliament from Dausa and Ajmer parliamentary constituencies.
"As per orders of Congress president Rahul Gandhi and request of Ashok Gehlotji I will be contesting in the Assembly election," Pilot endorsed Gehlot's statement.
Earlier, Congress was benefitted by the inclusion of Dausa BJP Member of Parliament Harish Chandra Meena, who left BJP and joined Congress. Meena is a former DGP, who had joined BJP in 2014 is quite a known face in the area.
Rajasthan will go on single phase polls on December 7 and experts and opinion polls suggest that Congress has a bright chance of winning Rajasthan this time around.
The inter-party movement just before the general election has become pretty much rampant among the various parties accross the length and breath of the country. In  October only, veteran BJP leader Jaswant Singh's son and ex-MLA Manvendra Singh joined the Congress ranks.
At a recently held rally in September, he had announced that he would be quitting BJP. He further said 'Kamal ka Phool Badi Bhool'. He also claimed that the with the BJP's election symbol, the lotus, was a "big mistake".
While welcoming Manvendra Singh into the party, Sachin Pilot said that it will strengthen the party further. He also said, "There is a long list of leaders quitting the BJP and the party should introspect why this is happening."
ALSO READ: Rajasthan Assembly elections: MP Harish Meena joins Congress; big jolt for BJP