Rajnath Singh condemns social media trolling of cabinet colleague Sushma Swaraj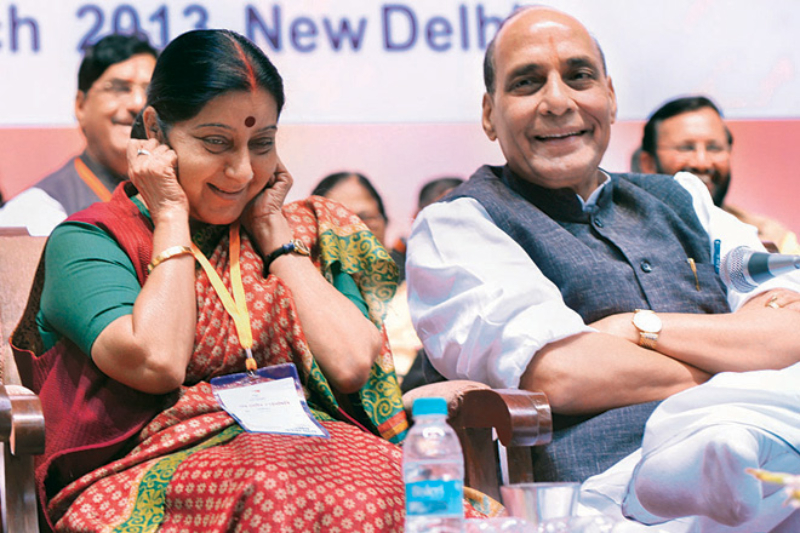 Union Home Minister Rajnath Singh condemned the vicious online abuse against his cabinet colleague and External Affairs Minister Sushma Swaraj. He became the first minister from the Narendra Modi government to speak against social media trolls who had launched campaign against Sushma Swaraj in the past few days. Speaking to reporters here, Rajnath Singh said he talked to Sushma Swaraj on the phone as soon as she tweeted about the abuse she was facing and that "what is happening is wrong".
Also Read: Congress Is Supporting BJP's Sushma Swaraj, Really?
Sushma Swaraj was viciously trolled for pulling up a passport officer accused of harassing an inter-faith couple in Lucknow during their application process. She initiated a Twitter poll on Saturday night asking her 11.8 million followers if they approve of such trolling. Some 124,305 Twitter users took part in the poll that was online for 24 hours. Some 57 per cent respondents backed her but a shocking 43 per cent supported her trolls.
After the poll, Sushma Swaraj tweeted on Sunday: "In a democracy difference of opinion is but natural. Pls do criticise but not in foul language. Criticism in decent language is always more effective." The minister's husband Swaraj Kaushal, in an emotional response to a troll, said the Twitter user's harsh words had caused "unbearable pain" to his family. Kaushal later protected his all tweets. When it was attempted to open his Twitter account it was shown that "@governorswaraj" account's tweets are protected and only confirmed followers have access to his account.
The Congress was quick to respond to her statement, saying, "No matter what the situation or reason, nothing calls for threats of violence, disrespect and abuse. Sushma Swaraj ji, we applaud your decision to call out the heinous trolls of your own party." Former Jammu and Kashmir Chief Minister Mehbooba Mufti also said she was horrified by the "vicious" trolling of Sushma Swaraj on social media and described it as outrageous. Delhi Chief Minister Arvind Kejriwal tweeted to her husband Swaraj Kaushal and said, "Sir, please don't explain to these people. Everyone knows who is controlling them and from where it is coming. It is politics. But the sad part is that politics has become so dirty."