Ramadan 2020 WhatsApp Stickers: How To Download & Install Ramzan Stickers
Ramadan WhatsApp stickers: Here is complete guide explaining how you can add Ramadan stickers on WhatsApp.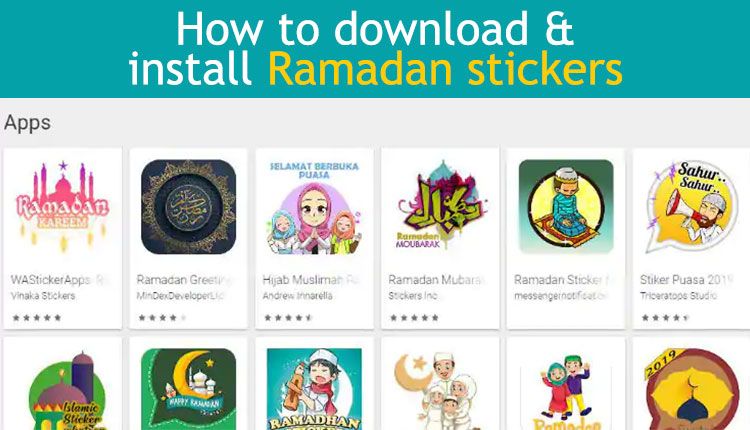 Ramadan 2019 or Ramzan — the holiest month for Muslims — is just about to begin in India. Muslims across the world are currently busy looking for best Ramadan Wishes, Quotes and WhatsApp Stickers to send their friends, family members and their loved one.
If you are looking for Ramadan Whatsapp stickers, do not fret, you have come at the right place. We will explain how you can download and Install Ramadan Kareem WhatsApp Stickers for your android and iPhones. Below is the entire procedure.
Ramadan 2020: How to download happy Ramadan stickers for WhatsApp
To install Happy Ramadan Whatsapp Stickers for Ramadan wishes, greetings, images, and motivational quotes, you just need to open WhatsApp and press on the emoji icon which is located next to typing space. Then, you will have to click on the Sticker icon and tap on the plus (+) icon. The list of WhatsApp stickers will pop up on the screen.
Note: WhatsApp has not yet dedicated Ramadan Sticker pack but there are several Ramadan sticker apps are available on the play store.
After tapping on (+) you will have to scroll down the WhatsApp window and click on "Get more stickers" option. The moment you tap on 'Get More Stickers' you will be redirected to play store, where there are several third-party apps are offering Ramadan WhatsApp Stickers. You will see "WAStickerApp" written in the Play Store's search bar. You have to add the word such as "Ramadan" or "Ramzan" "Ramadan Kareem" after the WAStickerApp in the search bar.
You can also download the WhatsApp Stickers via Play Store and search WAStickerApp Ramadan/Ramzan or WhatsApp stickers for Ramadan/Ramzan. You will see all the list of available Ramadan sticker apps.
How to install the Ramadan WhatsApp stickers
If you still do not know how to Instal it, do not worry. You just have to Install it like we do every other application by clicking on the Install button. Once it downloaded, you will end numbers of Ramadan stickers packs. You just have to add the packs on WhatsApp to see.
Note: If you have downloaded the wrong WhatsApp Stickers, you will have an option to uninstall the app and download another app from the same play store. However, if you download a sticker pack from the app, you need to keep the app installed in order to use those stickers in the WhatsApp. Uninstalling the third party sticker app will also uninstall the stickers from the WhatsApp.