Randhir Kapoor: This was indeed the last Ganesh Utsav for RK Studios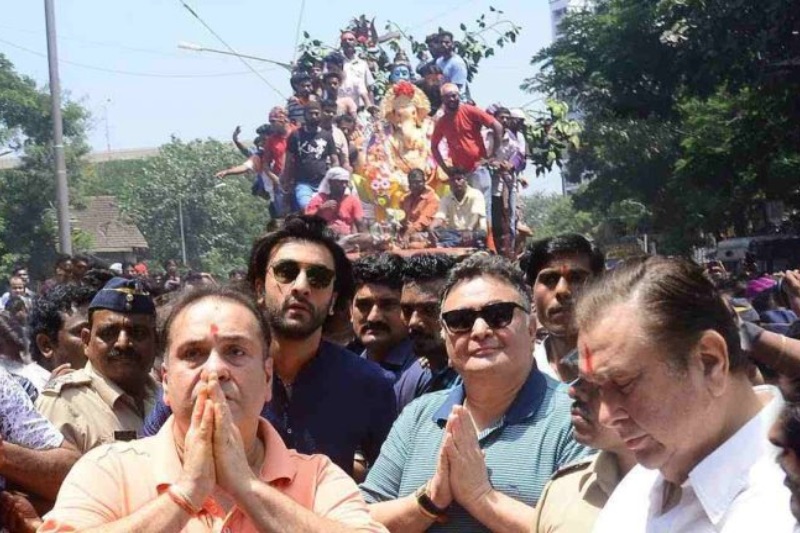 On the auspicious occasion of Ganesh Chaturthi, all the bollywood celebs celebrate the festival and bring Ganesha home.  But RK Studios' Ganesh Chaturthi celebrations are one of the best with people traveling to Chembur to catch a glimpse of it. It is a tradition for Kapoor family to come together for the festival every year but this year would be the last year when they welcome Ganpati Bappa.
After a fire broke out at the iconic studios and a major portion of it was burnt, the family decided to put it up for sale. Randhir Kapoor was teary eyed as he told Pinkvilla, "this was indeed the last Ganesh Utsav for RK Studios."
Exactly ten days from now, Randhir Kapoor, Rishi Kapoor and Ranbir Kapoor will dance on the streets of Chembur and will not just bid goodbye to Bappa but also the memories of the studio.
Talking about the RK studios sale,  Randhir had earlier told the Quint, "It's not economically viable for us to set up a new studio – we had to dismantle the entire place after the fire. It's even more an emotional loss than monetary loss. We have lost the entire memorabilia of Raj Kapoor. Whatever Raj Kapoor had built has been burnt down. Everything is gone."
RK Studios, the headquarters of the film production company RK Films, was founded and named after the Great Showman, Raj Kapoor, in 1948.
Also read: Kareena Kapoor Khan: It will be an honour to share screen space with Ranveer Singh