Ranveer Singh Gully Boy and his music label get a feature in The New York Times
The New York Times recently published feature on Ranveer Singh Gully Boy and his music label Ink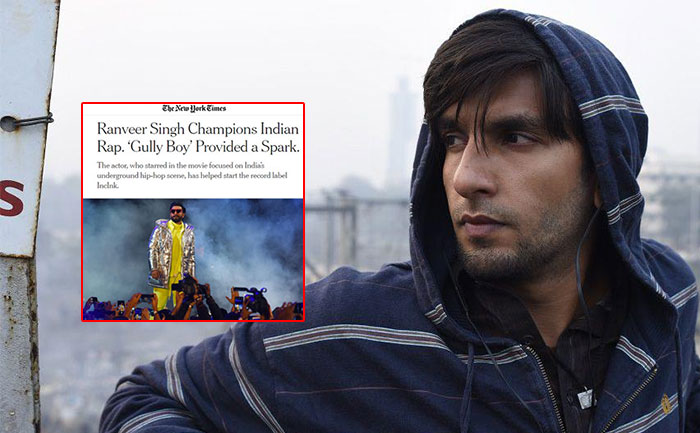 Ranveer Singh recently got a special feature in The New York Times. Lately, American newspaper The New York Times published a special feature on popular Bollywood actor Ranveer Singh. The padmaavat actor film Gully Boy and his music label IncInk is the one that got the feature.
Apparently, Ranveer talked about early tryst with rap and how things started with Tupac in 1995. The actor admitted that although he was only 10 years old during that time, he did feel connected with authenticity of Tupac's words in his songs.
"Although the themes were very mature for me at the time, I feel like I still, even at that age, could recognize that there was something very authentic in the expression," Ranveer said.
The New York Times feature observed the change brought by Gully Boy which is directed by Zoya Akhtar. Especially the India's attitude towards rap and hip-hop. Gully Boy that released in February this year stars Alia Bhatt as well. In the film Ranveer essays the role of a young rap singer from the slums of Mumbai.
Gully Boy is India's official entry to Oscars 92nd Academy Awards. Moreover, Ranveer Singh spoke about his label IncInk and also explained how it was his gesture of returning to the rapper community in India.
"The one thing I love the most about the label is the fact that it's no strings attached," he said to NYT. "It's no pressure. It's just creating freely. It's unbound."
Furthermore the article in The New York Times also mention the names of Raja Kumari, Badshah and Yo Yo Honey Singh's songs.
Also Read: Deepika Padukone Opens Up About Baby Plans With Ranveer Singh