Raqesh Bapat sculpts his Ganesh idol with the help of his friends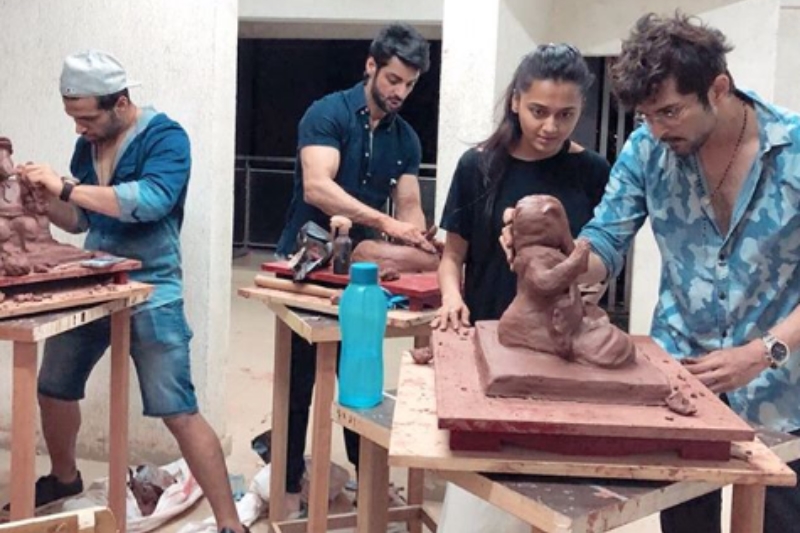 As Ganesha festival is around the corner, people are busy buying Lord Ganesha from the well-decorated shops, but there are celebrities who do not go to buy Ganesha idol, they sculpt it themselves. Indian actor and Model Raqesh Bapat is set to sculpt his own eco-friendly Ganesha Idol.
Raqesh Bapat is making eco-friendly Ganesha idol along with his friends  and colleagues Rithvik Dhanjani, Tejaswi Prakash and Karan Wahi. The actor took to Instagram to share the picture making eco-friendly Ganesha idol.
This eco-friendly Ganesha idol is made from the slit of the river bed and organic colour.  This is not the first when he is making an eco-friendly Ganesha idol, it's been 17 years, he has been doing so. Raqesh Bapat said, "when I start making the Moorti with natural clay, I have no idea what's shape is going to be. I don't decide on any particular theme. I just visualise what I have to make and it stays in my mind till the time I create it, and this entire process is like a meditation for me and helps me relax, detach and attain peace of mind and it connects me to my soul."
When Rithvik Dhanjani was asked, he said, "Now, that I am making it, I realise, that not only do you invest time and effort, but also a part of your soul in it. It's been an enriching experience."
"People who buy idols made of POP (plaster of Paris), need to understand the hazards of it. The sight on the following day of the immersion is pathetic. All that you have done with love and affection and prayers is lying around at people's feet. Have an eco-friendly Ganpati and save the environment because you are responsible for it." he further said.
Also read:  Bigg Boss 12 Season: Here is how Salman Khan sets Stage on Fire in Goa